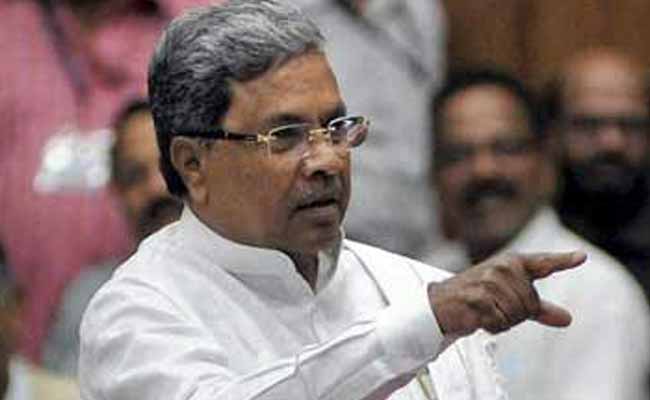 Mysuru:
Ahead of his meeting with his Maharashtra and Goa counterparts over Mahadayi water dispute, Karnataka Chief Minister Siddaramaiah called an all party meet on October 19 to discuss state's strategy on the issue.
"I have called an all party meeting on 19th (October), I have also called MLAs and MPs from the region for that meeting ..." Siddaramaiah told reporters in Mysuru.
Chief Ministers of Karnataka, Maharashtra and Goa are scheduled to meet in Mumbai on October 21 to discuss the Mahadayi river dispute.
This meeting is being held after the Mahadayi Water Disputes Tribunal on September 1 asked the concerned states to resolve the water dispute amicably by holding discussions.
Ahead of the all party meeting, Dharwad district in-charge Minister Vinay Kulkarni on Wednesday chaired a meeting of farmers and leaders involved in Mahadayi agitation.
Karnataka government, which has locked horns with the neighbouring Goa on the larger issue of sharing Mahadayi River water between both the states, had petitioned the tribunal seeking the release of 7.56 tmcft of water for the Kalasa-Banduri Nala project. The tribunal's July 27 interim order after hearing arguments from Karnataka and Goa had rejected the states' plea citing various grounds, including ecological damage that the project may cause.
Challenging this, the state government has filed a Special Leave Petition before the Supreme Court.
Following the interim order, tension had gripped most parts of northern Karnataka as protests turned violent on July 28 during which government offices were attacked and public property was damaged.
Also, a state-wide bandh was observed on July 30. The Kalasa-Banduri Nala (diversion) project, which will utilise 7.56 tmcft of water from the inter-state Mahadayi river, is being undertaken by Karnataka to improve drinking water supply to the twin cities of Hubballi-Dharwad and the districts of Belagavi and Gadag.
It involves building barrages across Kalasa and Banduri, tributaries of Mahadayi River, to divert 7.56 tmc to Malaprabha river which fulfils the drinking water needs of the twin cities.
Karnataka has for long been advocating an out of court settlement.
Siddaramaiah had led an all party delegation to Prime Minister Narendra Modi seeking his intervention.
Earlier, Goa government had rejected Karnataka's attempt for the out of court settlement stating that the people of the state felt it was more prudent to settle the dispute through the Tribunal.