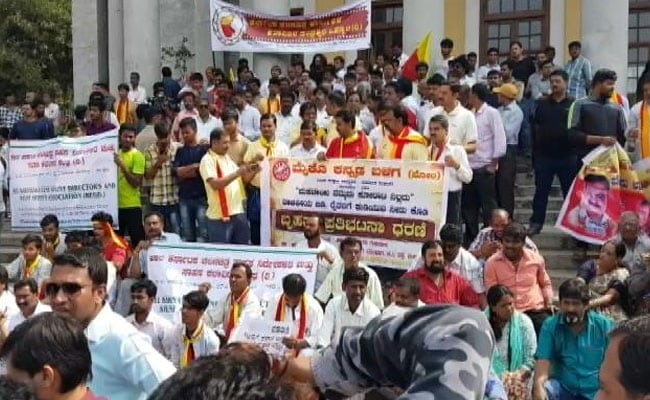 BENGALURU:
The Bengaluru bandh planned for February 4 when Prime Minister Narendra Modi is in the city has been cancelled by the Karnataka High Court. The order, which called the strike "unconstitutional", has
come as a relief for the BJP
that has been preparing for
PM Modi's mega rally in the IT hub
to mark the end of the party's Parivartan rally on the same day.
The court, which cited a Supreme Court verdict on strikes, also directed the Siddaramaiah government to ensure that the daily lives of people, and other industrial and commerce activities, are not affected due to the shutdown.
The BJP has accused the state's ruling Congress of playing a central role to ensure that strikes by pro-Kannada groups
over sharing of waters of the Mahadayi River
are timed to coincide with the party's big events ahead of state elections a few months later.
The
first of the two bandhs were
called on a day BJP president Amit Shah was to address a rally on January 25 on Mysuru. The February 4 bandh, curiously planned on Sunday, a holiday, was the second in this series.
Minutes after the high court's order came out, the Karnataka BJP repeated the charge. Chief Minister Siddaramaiah wanted to impose on people of Karnataka "only to thwart PM Modi's rally" on Sunday, the party said.
"These regressive ideas of a bandh, more so when it is not voluntary, have no space in a democracy," the state BJP tweeted.
Chief Minister Siddaramaiah, who faces state elections a few months later, was widely seen to have backed the protests over sharing the river water. He has been using the row with Goa and Maharashtra, both ruled by the BJP, to corner the BJP's presumptive chief minister BS Yeddyurappa.
Karnataka wants to go ahead with the Kalasa Banduri project that aims to divert water into the northern districts of the state. The project is facing stiff opposition from neighbouring Goa -- a major part of the Mahadayi flows through Goa before emptying into the Arabian Sea - as it is worried that it would affect their own water supply. The two states along with Maharashtra are before a tribunal which is deciding the issue.