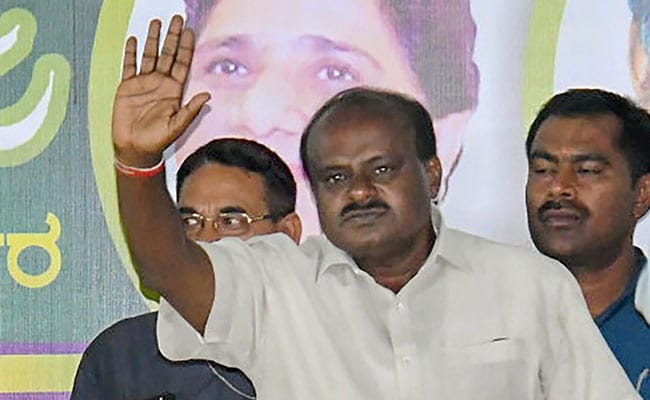 Bengaluru:
Karnataka Chief Minister HD Kumaraswamy today said details on the Congress-JDS coalition government's much awaited cabinet expansion and portfolio allocation is likely to be made public tomorrow.
He said a decision has been arrived at with the consensus of everyone after several rounds of deliberations.
"I, Deve Gowda (JDS supremo) and Venugopal (Congress general secretary) will sit together and discuss developments that have happened in Delhi and probably tomorrow we will come before public regarding cabinet formation and portfolio allocation, as also on the coordination committee," Mr Kumaraswamy told reporters here.
Hectic parleys were on between both the parties on cabinet expansion and portfolio allocation, soon after Mr Kumaraswamy proved majority on the floor of the assembly on May 25, two days after his swearing-in on May 23.
Sharing of key portfolios was the point of contention between both the parties, most importantly Finance, which both Congress and JD(S) want.
There are no "issues" on portfolio allocation, Mr Kumaraswamy, in response to a question about finance portfolio said.
"After several rounds of discussions, with consensus of everyone, a decision has been arrived at," he added.
JDS will get the Finance portfolio and the Congress the Home department, highly placed sources in the parties at Delhi had told PTI earlier today.
Only Karnataka PCC chief G Parameshwara was sworn-in as deputy chief minister, along with Kumaraswamy on May 23, in thepresence of a galaxy of national and regional leaders that wasseen coming as together of anti-BJP or anti-Narendra Modi front on one platform ahead of 2019 Lok Sabha polls.