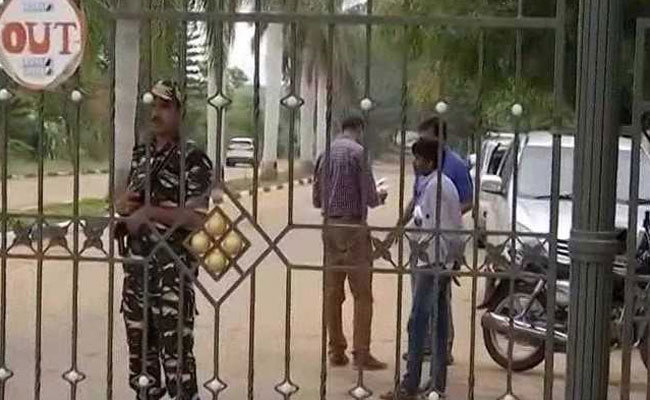 Bengaluru:
The Congress government in Karnataka has objected to the use of CRPF personnel during searches at the properties linked to state minister D K Shivakumar, saying it casts an aspersion on the credibility, integrity and professionalism the state police.
In a letter to Union Revenue Secretary Hasmukh Adhia, state Additional Chief Secretary (Home) Subhash Chandra said established conventions of cooperative action between central and state agencies should not be "by-passed" in such matters.
Mr Chandra said he was informed by the Karnataka Director General of Police and the IGP that the IT Department search teams were accompanied by CRPF personnel despite the fact that law and order is the responsibility of the state police.
He said about 30 CRPF personnel were deployed in Bengaluru alone during the search in full gear with weapons, which resulted in protests by Minister's supporters and police had to be called in to maintain law and order.
"The Government of Karnataka wishes to convey its strong protest with regard to this," the letter said, a day after the taxmen began searches at various premises connected to state Energy Minister D K Shivakumar, who is overseeing the stay of 44 Congress MLAs from Gujarat at a resort in Bengaluru.
Mr Chandra said that in matters where both Centre and state governments share responsibilities, established conventions of cooperative action should not be by-passed. "It is also requested that the Income Tax Department is suitably advised in the matter."
Chief Minister Siddaramaiah had also raised objections to the use of central force, stating IT officials should obtain help from local police during such raids. He had said CRPF personnel were used violating the rules.
"Let IT officials conduct raids and investigation by following rules and let people know the truth. Instead, if such raids are conducted with political vengeance, people will teach lesson in the days to come," Chief Minister Siddaramaiah had added.
The IT Department did not seek assistance in advance from the local police or any senior police authority for these operations, he had said in yesterday's letter.
In a swoop down that raised a political storm, the IT department conducted searches at 64 locations and properties linked Shivakumar in a tax evasion case and recovered over Rs 11 crore in cash. The raids continued today.
Mr Chandra said that utilising the services of CRPF, which is a CAPF (Central Armed Police Force), in full gear without keeping local police informed casts an aspersion of adverse credibility, integrity and professionalism of the state police which has been utilised effectively and without complaint by the IT Department in its previous operations.
Noting the deployment of the CRPF, an armed police force, in full operational attire with weapons for a civilian operation, conveyed a wrong impression, the letter said.
"Therefore, such deployment needs to be in consultation with local police authorities, as indeed has been the norm.
Such an approach is also essential to prevent any untoward incident occurring," said the letter, a copy of which was released to the media.