Highlights
6-year-old Kaveri fell into an borewell in a village in Karnataka
Kaveri slipped into the borewell while playing with her friends
Local authorities are supplying oxygen to keep the girl alive
Belagavi:
A six-year-old girl fell into an open borewell in a village in north Karnataka's Belagavi district on Saturday evening. A team of the National Disaster Response Force or NDRF from Pune, along with local officials, has launched efforts to rescue the child.
The child, Kaveri, is stuck at about 20 feet depth inside the borewell.
Kaveri slipped into the borewell when she was playing with her friends.
"They (NDRF officials) are now digging parallel to where she fell to a depth of about 24 feet. Then, a perpendicular channel will be dug to reach the child," Belagavi Superintendent of Police Ravikante Gowda told NDTV.
Mr Gowda said the NDRF team had hoped to bring out the child through the mouth of the well but that was not possible.The NDRF team also tried to pull Kaveri out using hooks and ropes from the narrow and dark hole but did not succeed.
A camera has been inserted to capture images of the child. Local authorities are supplying oxygen to keep the girl alive.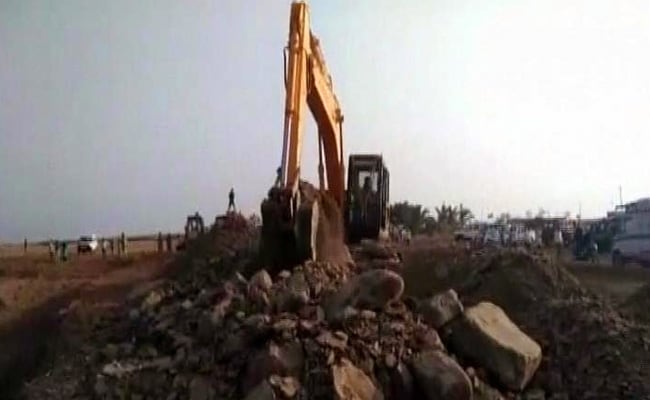 "We have dug a 10-foot tunnel so far and efforts are on to dig 20 feet more to reach Kaveri and pull her out of the borewell at the earliest," news agency IANS quoted an NDRF member.
The hard soil rocks around the borewell are slowing down the rescue efforts.
Karnataka Chief Minister Siddaramaiah said a criminal case will be filed against those responsible for the accident. He said, "It is the responsibility of the landowner and contractor to inform the gram panchayat about the borewell being open, and without covering or fencing it."
The borewell is located in the middle of agricultural fields in Jhunjarawadi village in Athani taluk, about 145 kilometres from Belagavi.
Karnataka BJP president BS Yeddyurappa said the tragedy could have been averted if the authorities had covered the borewell "which dried up due to severe drought and scorching summer in the region."
(With inputs from IANS)