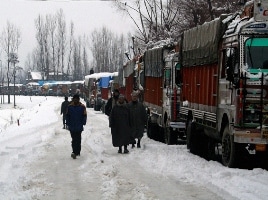 Jammu:
A light snowfall began in the valley, leading to marginally warmer temperature in the Jammu and Kashmir summer capital, early on Tuesday.
"Srinagar recorded 0.6 mm snowfall which began early morning on Tuesday," Bilal Ahmad, scientific assistant at the local weather office told IANS.
The snowfall led to a slight rise in temperature.
A weather official here said, "The minimum temperature was zero degrees in Srinagar, which is two degrees above normal." The minimum recorded temperature on Monday was minus 2.2 degrees.
In South Kashmir's Pahalgam hill station, 2.5 cm of snowfall has been recorded so far and the minimum temperature recorded there was minus 5.6 degrees Celsius, Ahmad said.
"We were expecting a western disturbance to arrive here around Jan 13, but it has arrived earlier, causing precipitation," he said.
"Light to moderate snowfall is expected in the plains of the valley while the snowfall will be moderate to heavy in the hills during the next 24 hours," he added.
Leh recorded a minimum of minus 15.2 degrees and Kargil, minus 16 degrees.
"In the winter capital of Jammu, the minimum temperature was 5.7 degrees -- two degrees below normal," the weather official said.
In south Kashmir's Qazigund town the minimum temperature was minus 3.6 degrees while in the Bannihal tunnel area of the Srinagar-Jammu highway it was 3.0 degrees, it added.