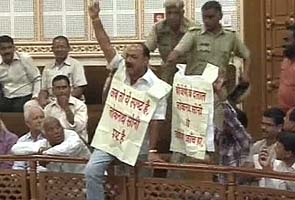 Jaipur:
That Jaipur's Congress Mayor Jyoti Khandelwal has never got along with a single Municipal Commissioner of the Jaipur Municipal Corporation is no secret, but that she would actually inspire another Congress corporator to attempt a jump from the balcony of the corporation into the well below was carrying things a bit too far. But that's exactly what happened on Friday when after a speech by the Mayor railing against officials of the corporation who don't carry out her bidding, Sanjay Verma, a Congress Corporator, sat in protest demanding that the present Municipal Commissioner Lok Nath Soni be removed. When nobody paid any attention to him, he did something even more startling - he tried to jump from the balcony of the house into the well below. Policemen on duty managed to prevent him just in time.
Rattled municipal corporation employees, deciding they'd had enough, went to complain to senior bureaucrats, including chief secretary C K Matthew, against the antics of the Mayor and her corporators.
Mr Lok Nath Soni told NDTV, that on the Mayor's complaints the chief minister's office has conducted an enquiry and found him blameless, but despite that the Mayor just doesn't let him work.
Ironically, Mayor Jyoti Khandelwal who has had seven other municipal commissioners shunted out of the Jaipur Municipal Corporation in her two year tenure till now, says, bring any of the previous gentleman back, but get rid of the present incumbent.
Meanwhile, the corporator Sanjay Verma, responsible for Friday's dramatics is now lying low. But in the past two years the Jaipur Municipal Corporation has had its fair share of drama. From BJP and Congress corporators wrestling in the well of the house, to an embattled Mayor jumping out of the window of her office when she found herself surrounded by angry BJP corporators, being a Congress Mayor in a house that has a BJP majority hasn't made things easy for Jyoti Khandelwal. And her inability to get along with any bureaucrat who takes over the corporation isn't making things any easier.