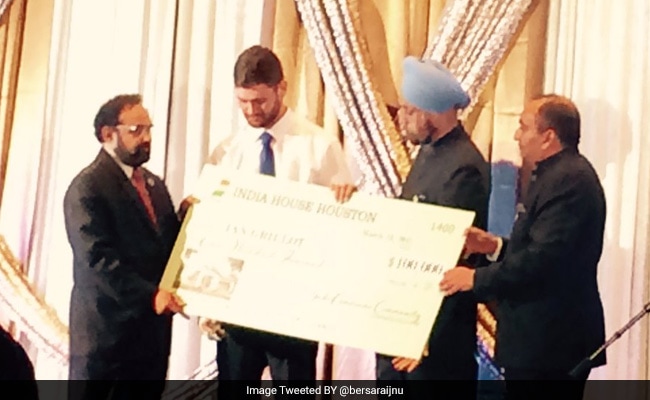 Highlights
The money was raised to help Ian Grillot buy a house in Kansas
The cheque was handed over by Indian envoy Navtej Sarna
He was lauded for his heroism and invited to India by the centre
Houston:
Ian Grillot, 24, who was injured while trying to intervene during a shooting in which Indian engineer
Srinivas Kuchibhotla
was killed in a Kansas bar was today felicitated by Indian-Americans with $100,000 in Houston. Mr Grillot was also hailed as 'A True American Hero' at the 14th annual gala of India House Houston, a community center of Indian-Americans in Texas.
"It is not every day that one meets a genuine hero - a person who risks his life for another, and takes a bullet for a complete stranger. Ian Grillot is a man who reminds us of the promise of America and its greatness," said Jiten Agarwal, chair of the annual gala.
"On behalf of the Indian-American community in Houston, India House recognised this selfless act beyond the call of duty and has extended the community's gratitude to Ian Grillot by helping him to buy a house," the India House Houston said, in a Facebook post.
India House raised $100,000 as part of an initiative supported by the Consul-General of India in Houston Anupam Ray to help Mr Grillot buy a house in his hometown of Kansas. The cheque was handed over by India's Ambassador to the US Navtej Sarna.
"I don't know if I could've lived with myself if I wouldn't have stopped or attempted to stop the shooter because that would've been completely devastating," Mr Grillot said.
"I do have a very powerful message and if I can help empower people and spread hope and love, then why not? I am honored to be at India House that serves so many families from so many communities in the Houston area," the 24-year-old added.
Mr Grillot had intervened in the shooting incident in Kansas carried out by US Navy veteran Adam Purinton which left Indian engineer Srinivas Kuchibhotla dead and his colleague Alok Madasani severely injured. His valiant effort was hailed by Union Minister for External Affairs Sushma Swaraj. The Centre had also
extended an invitation
to Mr Grillot to visit India as soon as he is able to travel.
While in the hospital, Ian Grillot had said, "I was
just doing what anyone should have done
for another human being. It's not about where he was from or his ethnicity."
(with inputs from PTI)