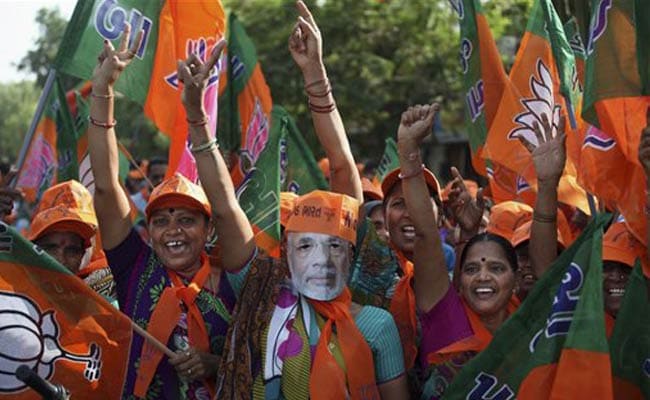 New Delhi:
The Bharatiya Janata Party (BJP) on Sunday claimed to have crossed the 10-crore membership mark continuing to be the "largest" party in the world.
"At the concluding session, party president Amit Shah was there and the BJP Parliamentary Party gave him a standing ovation on the completion of his 10 crore membership target. We have become the largest political party in the world among the democratic countries," Union Minister Venakaih Naidu told reporters after the workshop.
"BJP now has 10 crore+ (100 million+) members in its fold. A milestone for any democratic movement in the world. Jai Hind," Mr Shah tweeted.
PM Modi tweeted on Monday morning to congratulate BJP leaders and party workers for achieving the feat.
Congrats to BJP leaders & Karyakartas on the Party membership drive crossing 10 crore figure.

- Narendra Modi (@narendramodi) April 20, 2015
Earlier in the day, a number of party workers gathered at BJP headquarters at Ashoka Road and celebrated soon after the digital board displayed there saw the membership crossing the 10-crore mark.
The occasion was celebrated at the party's headquarters in New Delhi with bursting of crackers and slogan-shouting. Party president Amit Shah was given a standing ovation at the concluding session of a day-long workshop organised by BJP Parliamentary Party.
Giving credit to Narendra Modi and Amit Shah for the party's "feat", BJP's national convener of membership campaign Dr Dinesh Sharma in Mumbai said that by the end of this month, the membership figure could mount to 11 crore. The enrolment drive will continue till April 30.
Dr Sharma, who is also the national vice president of the party, was in Mumbai to take part in a programme in Bhayander.
Maharashtra has contributed one crore enrolments in the campaign.
"When we started our membership drive in November 2014, we had a target to enrol 10 crore members and it was no surprise, we achieved our target 11 days prior to the deadline (April 30)," he told PTI.
Lauding Maharashtra's Chief Minister Devendra Fadnavis for his contribution in the membership drive in the state, Mr Sharma said, "For some time, he (Fadnavis) was also the state president of BJP. So apart from grass root workers, the credit goes to him as well."
Dr Sharma, who is also the Mayor of Lucknow, said, "Maharashtra is the 19th state, where I have found that our campaign has been driven most successfully... After enrolment, BJP intends to start the Mahasampark Abhiyan for the training 15 lakh chosen members from among the new recruits."
Replying to a query on Congress' criticism of the BJP, Dr Sharma said, "When they were in power, they used to celebrate it, and when we are in power, we have a direct contact with the people of country. They cannot digest our positive approach."
"Syed Mastan Wali from Pulivendula town of Andhra Pradesh became the 10 croreth member of the BJP. Congrats to him," BJP general secretary Ram Madhav said.