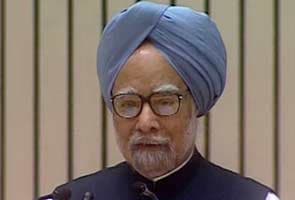 New Delhi:
As protests against the brutal rape of a five-year-old in Delhi continue, Prime Minister Manmohan Singh today said "vast improvement" was needed in the security accorded to women.
"The safety, security and status of women in our country is a matter of concern. We have to make vast improvements in this area," the prime minister said in his address on Civil Services Day.
"The gruesome assault on a little child reminds us of the need to work collectively to root out this sort of depravity," he said.
But BJP President Rajnath Singh attacked the government and the Prime Minister saying rape cases are on the rise because of the insensitivity of the UPA government.
"The Prime Minister should be one who should be responsible and sensitive towards the people, not someone who can do nothing for the people. Why are these rape cases increasing? Because there is a government that has lost all sensitivity towards its people," he said.
The five-year-old was abducted on April 15 and kept hostage in a room in which her attacker lived. She was sexually assaulted and brutalised, then locked and left to die by the man who assaulted her.
The child is under treatment at Delhi's All India Institute of Medical Sciences (AIIMS).
Following the incident, demonstrations have been taking place in Delhi and several other cities, demanding safety of women and girls.
This is the second time such protests have occurred in the capital. Large numbers of people had taken to the streets four months ago, after the brutal gang-rape - and subsequent death - of the 23-year-old in a private bus.
The prime minister said the protests also exposed "the need for showing concern and sensitivity while dealing with public anxiety".
He said his government has "moved with speed in strengthening the law to be able to deal more effectively with offences against women".
The laws related to rape and other sexual assaults against women were amended by the parliament recently, making punishment more stringent. Activists and political parties have, however, now demanded further amendments in the law.
"All of us, as responsible citizens, have a special obligation to contribute to the social and economic empowerment of women," the prime minister said.