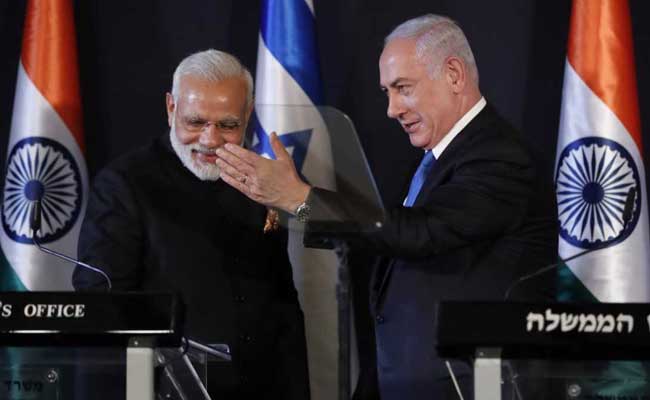 Highlights
India-Israel announce agreements in different sectors
Deals take ties beyond much-discussed defence deals
PM Modi and Netanyahu's joint statement takes strong stand on terror
Jerusalem:
There were more bear hugs on Wednesday and a working lunch for Prime Minister Narendra Modi and his Israeli counterpart Benjamin Netanyahu - but the focus was on getting business done.
A total of seven agreements were signed
in sectors ranging from agriculture to water conservation and space as they sought to deepen ties beyond high-priced defence deals.
The two leaders
presented a series of agreements
between India and Israel for cooperation on satellite technology, water and agriculture, as well as the creation of a $40 million innovation fund.
The agreements are part of efforts to extend relations in civilian areas between both countries, with Israel already selling India an average of $1 billion per year in military equipment.
But the joint statement issued by both leaders was preceded by personal anecdotes to signal their close friendship. Mr Netanyahu said a long-ago date at an Indian restaurant was followed by a marriage that has lasted 26 years. PM Modi thanked Mr Netanyahu's wife and the Israeli premier for the dinner they hosted for him last night.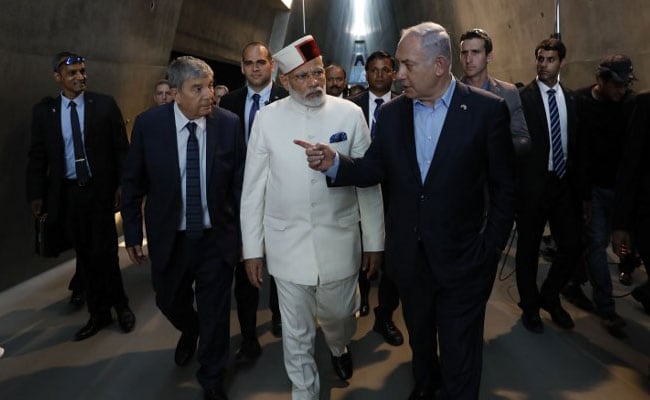 There was a knowing nod among reporters as the Israeli leader said "This is a marriage made in heaven being implemented here on earth" - he flattered Chinese president Xi Jinping with the same comment earlier this year.
But there was enough accomplished to lend weight to a trip that has been big on optics and has changed India's foreign policy - this is the first visit ever to Israel by a serving Indian premier.
Greater cooperation on terror is one of the big takeaways. PM Modi said, "Both of us have suffered first hand violence of terror and we agreed to do much more together to protect our interests."
The joint statement calls for taking strong measures against terror organisations, their networks and all those who encourage, support and finance terrorism or providing sanctuary to terrorists.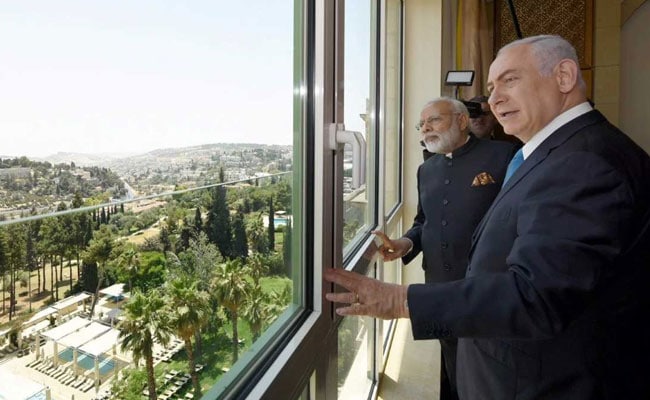 India is Israel's biggest client in defence technology and both sides committed to extending that relationship with a special emphasis on PM Modi's Make In India campaign that asks foreign vendors to ensure the transfer of technology to Indian partners with the goal of reducing India's dependence on foreign arms.
Today, PM Modi will meet CEOs to discuss boosting trade and investment.
PM Modi's visit marks 25 years since India and Israel established diplomatic relations.
Israel, constantly searching for allies at the United Nations and for new business partners, has portrayed the visit as a major diplomatic victory.
Israeli analysts have noted that PM Modi has chosen not to Ramallah to meet Palestinian leaders during his three-day stay, as is common for visiting dignitaries.
"I have a feeling that today India and Israel are changing our world and maybe changing parts of the world," Mr Netanyahu said after talks with PM Modi in Jerusalem.