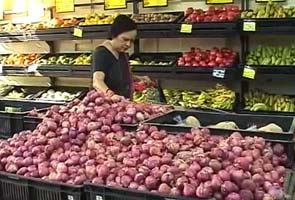 Bangalore:
In Bangalore, 600 tonnes of onions are consumed on an average. However, ever since the prices escalated almost a month ago, people have learnt to cope with limited consumption of the vegetable.
Onions are currently priced at Rs 63 per kilo. Consequently, Sudha Bhatnagar, a homemaker, had to slash onions from her shopping list.
"I have anyway told my servants, use one instead of two. When tomatoes become costly, I tell them, use one, use half and when they become cheaper, you can always make puree," says Sudha.
Editor of India Syndicate R Shankar adds, "In Kannada there is a saying `solpa adjust maadi', this is a typical mechanism where the middle class adjusts to anything that is abnormally priced. Onion or tomato or anything...they would rather scale down their consumption rather than completely abolish."
Income Tax raids on onion traders last week and their consequent strike badly hit onion arrivals in the market. On Monday, the government-owned HOPCOMS could procure only 40 per cent of Bangalore's daily demand.
"In coming days, if supply is more, and if people are addicted to using less onions, it will affect economy. But the good news is that we cannot persist without onions for a long time, so it's bound to resume," says Parashivmurthy, Managing Director, Horticulture Produce Marketing Corporation.
Experts and economists have said prices would stabilise sometime in the first or second week of January but they still haven't climbed down. For now, it seems the trademark `adjusting nature' will only help people sail through times of onion-shortage.