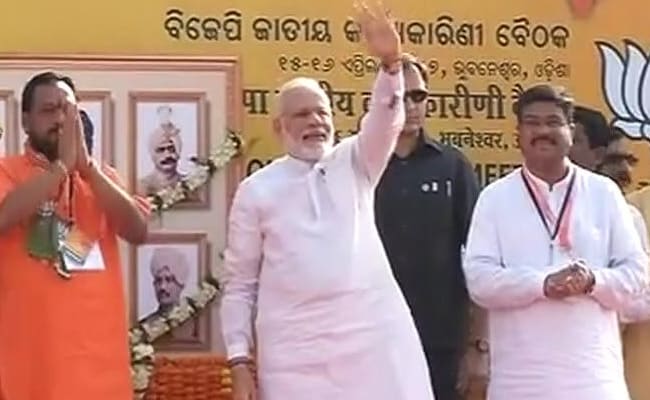 Bhubaneswar:
Emboldened by its impressive performance during the panchayat elections, the
BJP's national executive began this afternoon
in the Odisha capital Bhubaneswar. This is the party's biggest, and loudest push to edge out its one-time ally, the Biju Janata Dal, and capture power in the state which goes to polls in 2019, along with the Lok Sabha General elections.
On Friday, BJP president Amit Shah received a rousing welcome that included two garlands made of lotuses, the party symbol. One had 21 flowers to symbolise the parliamentary seats in Odisha, the other had 147, the number of assembly seats. Today, it is Prime Minister Narendra Modi's turn, the man whose credibility, confidence and faith among the people, in the words of Union Minister Dharmendra Pradhan, "is at Himalayan top".
Soon after landing at the airport, PM Modi drove straight to Raj Bhavan in a convoy of Range Rover SUVs, at times leaning out of the vehicle to wave at cheering supporters who had lined up along the route to welcome him. On occasions, he also got off the vehicle to walk up to them. At the venue, he was received by BJP president Amit Shah.
"I am witnessing so much vigour in BJP's workers of Odisha. This meeting can be proven as a milestone in the upcoming election of Odisha," said Chhattisgarh CM Raman Singh.
The two-day national executive attended by the BJP's 350 top leaders will have a string of speeches over the next two days and will conclude tomorrow. It will be an opportunity to exchange ideas on the party's strategy for the 2019 General Elections. But the biggest message from the executive might have already been delivered when the BJP decided to hold the meeting in the eastern state. It will also be an opportunity to showcase the Chief Ministers of 13 BJP-ruled states, particularly the saffron-robed Uttar Pradesh Chief Minister Yogi Adityanath.
Odisha, where the BJP had won just one of the 21 seats in 2014 Lok Sabha elections, is at the heart of the BJP's "Look-East" policy. The first sign that this was within the realm of possibility came in February when the party won 300 seats in the panchayat elections as against the ruling BJD's 400 seats. The main opposition party, the Congress was left with less than 100 seats.