NEW DELHI:
Highlights
Last week, four senior judges warned "democracy will not survive"
On Monday, Justice Arun Mishra reportedly broke down at meeting
Chief Justice of India continued efforts to reach out to the four judges
The case about judge BH Loya's death, one of the main triggers for an unprecedented crisis in India's judiciary, could be reassigned. The two judges hearing the case on Tuesday said in an order that the case be "put up before the appropriate bench". That means the Chief Justice of India, Dipak Misra, has to decide whether to transfer the case to a different set of judges.
Last week, the four most-senior judges of the top court after the Chief Justice -- Justices J Chelameswar, Ranjan Gogoi, Madan Lokur and Kurien Joseph -- held a press conference where they warned that
"democracy will not survive"
. They said their decision to go public against the Chief Justice was motivated in part because cases of "far reaching consequences" were being assigned inappropriately.
No judge among this quartet was assigned to hear the judge Loya case, which is seen as politically sensitive. Instead, the case was assigned to two judges including Justice Arun Mishra, the 10th most-senior judge of the Supreme Court.
On Monday, Justice Arun Mishra
reportedly broke down
at a meeting with other judges and said he was "unfairly" targeted and questions raised about his "competence". He was reassured that he was not the target by Justice Chelameswar, who is second only to the Chief Justice in seniority and at whose home the first-of-its-kind press conference was held on Friday.
The Chief Justice of India continued efforts to reach out to the four judges who had criticised him in public and discussed "all issues" at a meeting on Tuesday. After this meeting, sources held out hopes for an early resolution of the differences, telling NDTV that "the
ice has started melting
".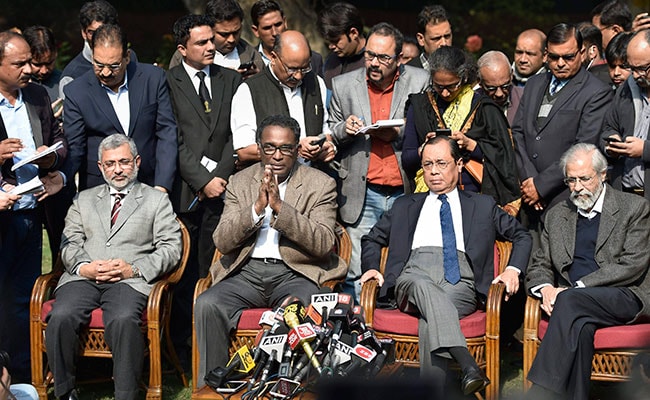 Judge Loya, 48, died in Nagpur in December 2014 while he was hearing a case that accused BJP chief Amit Shah of murder. Weeks later, Amit Shah was discharged from the case with a new judge ruling that there was no evidence to merit his trial.
Two months ago, judge Loya's relatives said his death was unnatural. His sister Anuradha Biyani also claimed that he was offered a huge bribe to rule in favour of Amit Shah.
As the demand grew for an investigation into his alleged heart attack while attending a wedding, a Maharashtra journalist and activist-petitioner Tehseen Poonawalla asked for the Supreme Court to order an independent inquiry.
The case was assigned on Friday by the Chief Justice. Hours later, when the four judges met the press, they were asked if the judge Loya case was problematic in its allocation; they said yes.
Judge Loya's son Anuj Loya said on Sunday that he
did not have any suspicions
about the death. And the Nagpur police on Tuesday told the Supreme Court that the judge had died of a heart attack and "no probe was necessary".
The Maharashtra government had also placed documents relating to the death before the court in a sealed cover and did not want the papers to be seen by anyone. Justices Arun Mishra and MM Shantanagoudar, however, ruled that the petitioners should be able to see these papers.
Get Breaking news, live coverage, and Latest News from India and around the world on NDTV.com. Catch all the Live TV action on NDTV 24x7 and NDTV India. Like us on Facebook or follow us on Twitter and Instagram for latest news and live news updates.