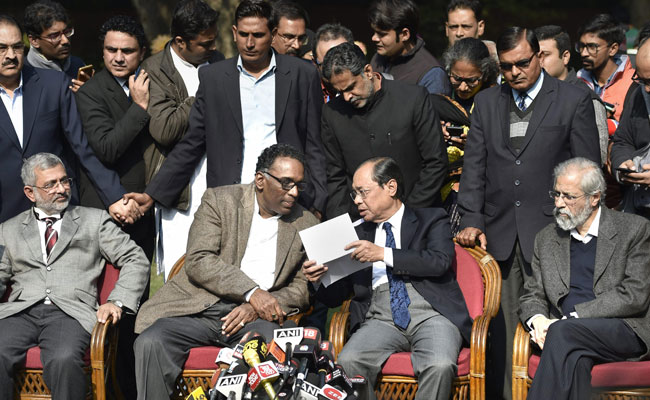 Highlights
Morning gathering at judges' lounge is a decades-old practice
Every day, judges meet there for tea before round of hearings begin
Justice Arun Mishra may head petition on judge BH Loya's death
New Delhi:
The morning tea session at Judges' lounge at the Supreme Court - where the Chief Justice of India and some of the other judges met informally on Monday to settle their differences - had some emotional moments. One of the participating judges nearly broke down and Chief Justice Dipak Misra and Justice J Chelameswar, who took him on publicly on Friday, came together to comfort him, reported news agency IANS.

Justice Chelameswar was seen with his arm around the shoulder of 62-year-old Justice Arun Mishra, as the Chief Justice led him to his chamber.

Justice Arun Mishra is expected to hear a petition on Tuesday that calls for an independent investigation into the death of special judge BH Loya. Judge Loya, who was hearing the CBI's case of murder against BJP chief Amit Shah, died of a cardiac arrest in Nagpur in December 2014. Later, Mr Shah and several top police officers were cleared by a court.

The morning's gathering at Judges' lounge is a decades-old practice. Every day, the judges meet there to have tea before the round of hearings begin. But on Monday, the staff was asked to leave before the five top judges, accompanied by a few others, met.

At the meeting, Justice Arun Mishra said he was being "unfairly" targeted by the four judges, who raised questions about his "competence" and "integrity", reported IANS. Though his name was not mentioned by the four judges, he said inferences have been drawn from the cases they referred to on Friday, including one involving the death of judge Loya, IANS reported.

Justice Arun Mishra was assigned the petition concerning BH Loya on Friday - the day Justices Chelameswar, Ranjan Gogoi, Madan Lokur and Kurien Joseph went public with their grievances. When the reporters asked if their complaints included the case of the death of judge Loya, Justice Ranjan Gogoi said, "Yes".


Justice Arun Mishra said earlier, even former Chief Justices TS Thakur and JS Khehar had assigned him tough cases and he has been overburdened. At this point, the Chief Justice and Justice Chelameswar came over to him. Putting his arm around him, Justice Chelameswar told Justice Mishra that they were trying to raise issues and were not against him, IANS reported.
The hearings at the Supreme Court, which begin at 10.30 am were delayed by 10 minutes on Monday. Following the delay, when an anxious advocate raised the issue of the rift in the courtroom, Chief Justice Dipak Misra "smiled but didn't answer", sources said.
Attorney General KK Venugopal, the government's top lawyer, later told the media that "everything has been settled".
Last year, in an interview to The Caravan news magazine, Anuradha Biyani, Judge Loya's sister, had raised questions about the death, triggering calls from various quarters about an independent inquiry. But several judges who were with Judge Loya during his last hours, and officials and doctors, have countered the family's claims.

On Sunday, Judge Loya's son Anuj Loya said the family has no suspicion now regarding his death. "There was some suspicion before due to emotional turmoil, but now it is clear," Anuj Loya told reporters. But he said his father's death is now being politicised and the family is being "harassed" and "victimised".