Highlights
Judge Loya's son Anuj said his family was being "harassed", "victimised"
Some of judge Loya's relatives still want an investigation into his death
Judge Loya had died of a cardiac arrest in Nagpur
New Delhi:
The death of BH Loya -- the judge who was hearing the Sohrabuddin fake encounter case - in December 2014, is being "politicised", his family has said. At a press conference this evening, his son Anuj Loya said the family has no suspicions now regarding the death, but
they are being "harassed" and "victimised"
.
"I don't have any suspicion... There was some suspicion before due to emotional turmoil, but now it is clear. I was 17 at that time and I was in emotional turmoil. Didn't understand anything at that time," Anuj Loya told reporters. Mr Loya's lawyer Ameet Naik, who was accompanying him, added, "There is no conspiracy... we don't want to be victims of any political issue".
However, some of the relatives of judge Loya still want investigation into his death. An uncle of judge Loya, who did not want to be named, told NDTV that there was pressure on judge Loya and said that there should be an enquiry.
The 48-year-old judge -- who was hearing the CBI's case of murder against BJP chief Amit Shah -- had died of a cardiac arrest in Nagpur, where he had gone to attend a wedding, on December 1, 2014. Mr Shah and several top police officers were subsequently cleared by a court. Last year, in an interview to The Caravan news magazine, Anuradha Biyani, judge Loya's sister, had raised questions about the death, triggering calls from various quarters about an independent inquiry.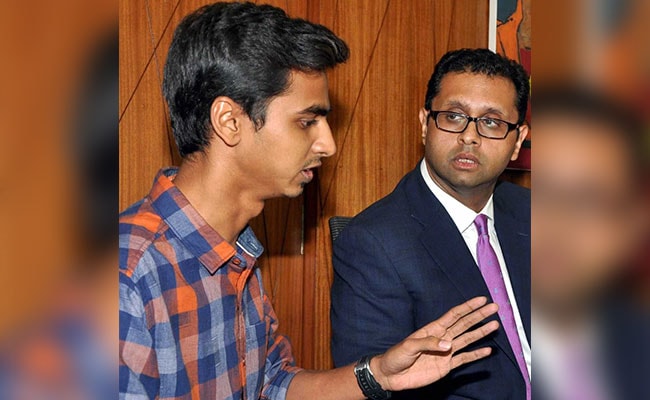 The matter had snowballed further when four most senior judges of the Supreme Court
took on Chief Justice of India Dipak Misra
on Friday, saying cases of "far-reaching consequences" were being allocated without transparency and "sensitive cases were being allotted to junior judges". Asked by reporters if their complaints include the case of the death of BH Loya, one of the four judges, Justice Ranjan Gogoi said, "Yes". He, however, had declined to elaborate.
The Congress
had jumped in
immediately. In a two-page statement, the party asked that the petition about the death of judge Loya be entrusted to the senior-most judges of the Supreme Court, "who should ensure that under their supervision there is a thorough and impartial investigation of the case by an independent SIT (special investigation team)".
Anuj Loya today said many people were trying to "harass" the family and "create panic" among them. He asked the media to convey to NGOs and lawyers and activists "not to harass the family members".
Following the death of judge Loya, Justice Bhushan Gavai, who met him in Nagpur, told NDTV that there was no sign of any cover-up or mystery about the death. The other claims of the family were countered by officials and doctors who helped reconstruct his last few hours.