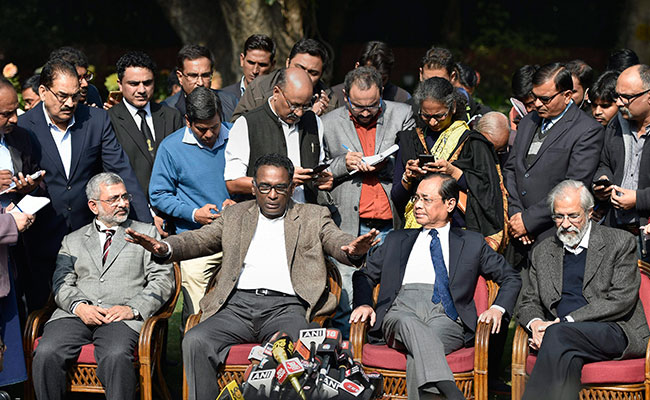 New Delhi:
In an unprecedented move, four senior judges of the Top Court today took on the Chief Justice of India. The judges, who are next in seniority to the Chief Justice -- Justice J Chelameswar, Justice Ranjan Gogoi, Justice M B Lokur and Justice Kurian Joseph -- said they met the Chief Justice in the morning and handed him a letter signed by all four of them. Here are key five points from the letter that they released to the media.
Here are the top 5 quotes:
Certain judicial orders passed by this Court have adversely affected the functioning of the justice delivery system and the independence of the High Courts besides impacting the administrative functioning of the office of the Chief Justice of India"

"There have been instances where cases having far reaching consequences for the nation and the institution had been assigned by the Chief Justices of this court selectively to the benches 'of their preference' without any rational basis."

"We are not mentioning details only to avoid embarrassing the institution but note that such departures have already damaged this institution to some extent"

"The convention of recognising the privilege of the Chief Justice to form the roster and assign cases to different members/benches of the Court is a convention devised for a disciplined and efficient transaction of the business of the Court but not a recognition of any superior authority, legal or factual of the Chief Justice over his colleagues"

"The Chief Justice is only the first among the equals - nothing more, nothing less".