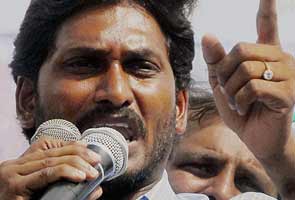 New Delhi:
The Supreme Court will today decide whether politician Jagan Mohan Reddy should be granted bail. Mr Reddy was arrested in Hyderabad for alleged corruption and has been in jail for nearly a year.
During a hearing last week, the top court had asked the Central Bureau of Investigation (CBI) the file its response by May 6 in court to explain why Mr Reddy should not be granted bail.
Mr Reddy's lawyer had quoted a recent newspaper report in the Supreme Court that said a Union minister had suggested in Hyderabad that if Mr Reddy agrees to join the Congress, the party his father belonged to, he may be able to leave jail.
The judges want the CBI to explain that statement, which suggests that the investigation against Mr Reddy is being influenced by the government, a charge the politician has made repeatedly.
The CBI says that when his father, YSR Reddy, was chief minister of Andhra Pradesh, he pressured companies to invest in his son's vast business empire. In return, YSR allegedly gave them licenses and clearances necessary for their own companies.
YSR died in a helicopter crash in September 2009.
Mr Reddy, 40, says that the CBI investigation against him is punishment for his decision to quit the Congress in 2011 to launch his own political party, the YSR Congress.
Jagan Mohan in 2011 declared assets worth Rs 365 crore.