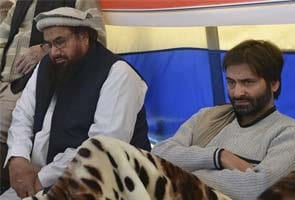 New Delhi:
The External Affairs ministry says it would impound the passport of Kashmir's moderate separatist leader Yasin Malik, who shared the dais with 26/11 mastermind Hafiz Saeed in Pakistan, if it receives a request.
Ministry spokesperson Syed Akbaruddin said the passport was given to Malik, chief of the Jammu and Kashmir Liberation Front (JKLF), after getting a "no objection" from other Indian ministries and agencies.
"When violation (of provisions of passport) is indicated... when it is brought to our notice, we will act," he said, adding that the government would act with Malik "as fit of a citizen of India".
The Bharatiya Janata Party (BJP) has demanded that Malik's passport be revoked for sharing the dais with Lashkar-e-Taiba founder Hafiz Saeed at a rally held to protest the execution of parliament attack convict Afzal Guru in Islamabad on Saturday.
Mr Akbaruddin said India has raised with Pakistan the issue of bringing Saeed to justice.
"Hafiz Saeed continues to pour vitriol on India...he is a fit case to bring to justice and we will do so," he added.
Earlier, External Affairs Minister Salman Khurshid said the matter of Malik pertains to the home ministry and "I'm sure they will take appropriate steps. When they do, they will inform us".
BJP president Rajnath Singh said the government should "seriously" take cognizance of Malik sharing the public dais with Saeed.
"The government should seriously take cognizance of this. It's not a small issue. I expect this much from the government," he told reporters here.
BJP leader M Venkaiah Naidu also criticised the government, saying Malik's passport should be revoked immediately.
BJP spokesperson Prakash Javadekar said it was the home ministry's mistake to allow Malik to go to Pakistan and the party would raise the issue on all forums.
Malik has said that Saeed was on the stage for 10 minutes and they did not exchange any words.