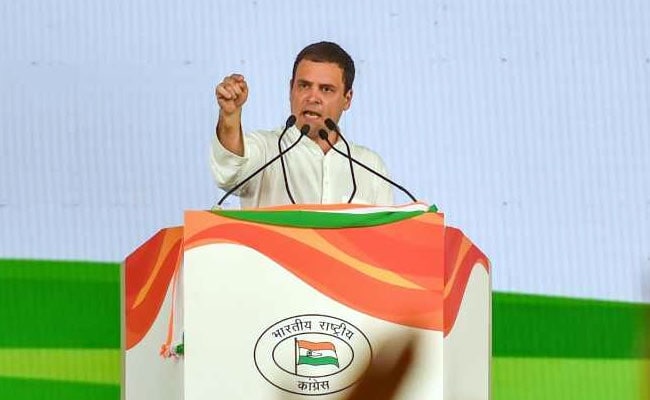 New Delhi:
Congress President Rahul Gandhi Sunday said he would allow different voices to flourish within the organisation but stressed all must present a united face when it comes to fighting forces like the RSS, in his first public comments on recent dissenting opinions expressed by senior party leader Salman Khurshid.
Addressing the party's '
Jan Aakrosh Rally
' at the Ramlila Maidan, with the senior leader in audience, Mr Gandhi said, the party will respect its experienced and young leaders and workers alike.
Action will be taken against anybody who shows disrespect to own party colleagues, he said.
"I want to give an example. Salman Khurshid
ji
is sitting here. A few days back, he voiced opinions which were against the party line. I am ready to accept from this platform that there will be different opinions in our party and that I will allow different opinions to flourish in the party, he told the gathering.
Mr Gandhi said he will protect people like Mr Khurshid, a former Union minister, who has opinions different from the party's. But, I do want to say something that when the party is fighting against the RSS, then we will have to do so with unity and love.
As Mr Gandhi spoke these lines from the stage, Mr Khurshid was seen clapping in the audience. He later said only truth prevails in the Congress party.
Targeting Prime Minister Narendra Modi and BJP chief Amit Shah, Mr Gandhi said they would never say something like this.
This is mainly because only two people are respected in the ruling party, PM Modi and Amit Shah, he alleged.
Neither (Union finance minister) Arun Jaitley
ji
nor (BJP veteran LK) Advani
ji
nor their chief ministers will be respected in their party. In their party, only Narendra Modi and Amit Shah will be respected, he alleged.
Mr Gandhi stressed that Congress ideology alone can spread love and brotherhood across the country.
Last week the impeachment notice against Chief Justice of India Dipak Misra given by seven opposition parties led by Congress did not have the backing of Mr Khurshid, a former law minister. He had said he was not kept in the loop on the impeachment notice.
Also, a controversy had erupted last week over Mr Khurshid's remarks that the party's hands were 'stained with blood', prompting the Congress to quickly distance itself from the comment.
The party said it disagreed completely with Mr Khurshid and requested its leaders to refrain from making such "unfounded" statements that "help the cause" of the party in power.
"It is a political question. There is blood on our hands. I am also a part of the Congress so let me say it, we have blood on our hands, Mr Khurshid had said in response to a student accusing the Congress of having Muslim blood on its hands and asking how the party proposed to wash it off, at an event in Aligarh Muslim University in Uttar Pradesh on April 22.
After a controversy erupted over the issue, Mr Khurshid hit out at the media, saying it saddened him as it questioned right to speak the truth.
Media saddens. They question right to speak truth. They distort reply to isolated hostile question by imputing confession instead of reporting 'despite allegations would you deny our duty to protect you from harm?' Sensationalism for profit?

- Salman Khurshid (@salman7khurshid) April 24, 2018
Mr Gandhi though did not directly mention any of the two instances in his speech.