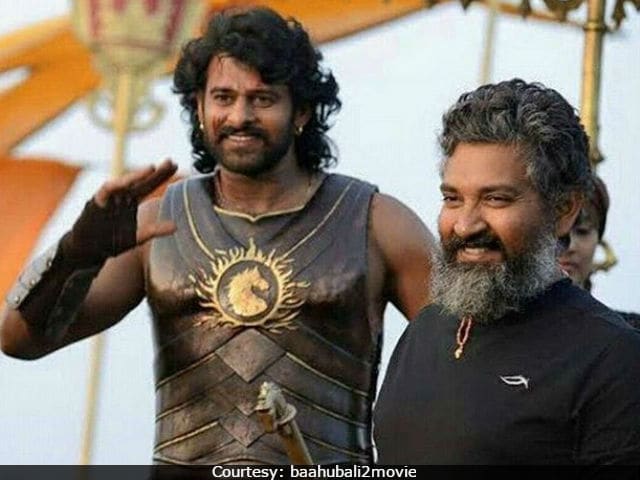 Highlights
"The world Of Baahubali shouldn't end," says Rajamouli
Baahubali 2 has so far earned Rs 400 crore at the box office
Baahubali franchise has been expanded into an animation series
New Delhi:
Baahubali: The Conclusion
has shattered all box office records. The epic film has impressed the critics and audience with its grandeur and amazing visual effects. Filmmaker S S Rajamouli, who is currently basking in the glory of the success of
Baahubali: The Conclusion
, doesn't 'want the world of
Baahubali
to end,' reports news agency IANS. "The world of
Baahubali
is so fascinating. I wish it doesn't end. It shouldn't end and I will pray for it," he said.
Baahubali: The Conclusion
is the final instalment of Rajamouli's two-part magnum opus. Part one,
Baahubali: The Beginning
released in 2015 was one of the top-grossing films of the year.
Baahubali series stars Prabhas, Rana Daggubati, Sathyaraj, Anushka Shetty
, Ramya Krishnan and Tamannaah Bhatia. In part two, Prabhas stars in as Amarendra and Mahendra Baahubali, who avenges his father's death while Rana features as the antagonist Bhallala Deva. Sathyaraj plays Katappa, who killed Baahubali in the first part.
"We created the world of
Baahubali
for our actors to understand their character better. When we look at Baahubali and Bhallala Deva, the warring brothers, what we see in the film is just a minor part of their lives. In the
Baahubali
universe, there is so much more worth knowing about them. The same applies to other characters too," Rajamouli told IANS.
As
Baahubali
franchise comes to an end with part two, audiences can continue to witness the experience via comics, animation series and novels. "There are backstories for each character in the world of
Baahubali
. Some really powerful scenes which needed to be told. Unfortunately, film medium has its own limitation and not all stories work very well in it. The story of Sivagami, for instance, is so powerful and exhaustive, we realised it will work wonders as a novel," Rajamouli explained.
Ramya Krishnan played Sivagami in the film. Her story has been turned into a three-part novel,
The Rise of Sivagami
.
Meanwhile,
Baahubali
franchise has been expanded into an animation series titled
Baahubali: The Lost Legends
. An elated Rajamouli told IANS that he's a 'big fan' of the medium. "I'm a huge fan of Disney's films. Lately, I have been fascinated by 3D animation and I'm glad we could visualise
Baahubali
universe through this medium. Even though it doesn't cater to a larger audience as cinema, it's widely popular and fast catching up in India." The second episode from
Baahubali: The Lost Legends
will be unveiled on Friday.
However, Rajamouli has no plans to make an animation film. "As exciting as the idea sounds, it took us five years to take
Baahubali
to the audience. It's going to be a very time-consuming process and I don't think I can afford so much time on a project again," he quipped.
Of the film's success, he told IANS, "I'm going to be honest and tell you that we wanted this kind of success. We strove hard and longed for it. When we achieved it, it's so hard to believe that I still cannot come to terms with this overwhelming feeling. It's tough to believe if this success is even real."
Speaking to IANS about his future plans, Rajamouli said,"My long-time desire is to make a film on Mahabharat. You can imagine the scale on which it has to be made and it will be beyond anybody's imagination. It's been on my mind for quite long but I don't know yet when it will happen."
(With IANS inputs)