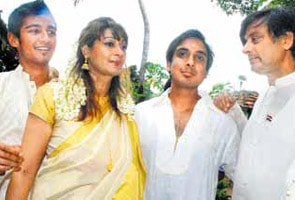 Bangalore:
"Amma, welcome to the family," these were the words that moved Sunanda Pushkar, soon after she married Shashi Tharoor, on Sunday morning.
Kanishk and Ishan, Tharoor's sons from his first marriage to Tilottama Mukherji, were lined up to welcome their new mother, while Shiv, Sunanda's son from her marriage to Sujit Menon, was at her side.
A traditional Kerala Hindu wedding was solemnised at 8.30 am, at the MP's ancestral home in Elevanchry, a village near Palakkad.
A source who attended the wedding said that Sunanda could not control her emotions when Kanishk called her Amma. She hugged him, and her eyes welled up.
"I am sure her motherly presence will change our lives for the better, and I am happy to have a complete family," said Kanishk.
"Ishan and I have a brother in Shiv." Ishan writes for the
Time
magazine from Hong Kong, and Kanishk edits
Open Democracy
, a magazine from London. Shiv studies in Dubai.
The marriage festivities had co-incided with Onam celebrations, and the family had
Onam Satya
(a traditional Onam dish) for lunch, though guests were treated with a simple breakfast of
idli
and
wada
after the wedding.
"It was touching to see how well Ishan and Kanishk were getting along well with Shiv," said Narayana Unni, Shashi's maternal uncle.
"It's been a long time since I have witnessed such an occasion in our family."
Ishan and Kanishk teamed with Shiv to leave for Trivandrum, where they will stay in a hotel for the night before attending the wedding reception in Trivandrum Club, on Monday morning.
Shashi took Sunanda to Guruvayur temple to pray before Lord Krishna. Jayashankari Amma, Tharoor's 92-year-old grandmother offered new clothes to the newly-weds, as is the tradition.
While the wedding was a low-key affair with close to 300 guests in attendance, Mani Shankar Iyer, former union minister and Congress leader, was the only known face.
"I wanted to keep it that way because we had no facilities here to accommodate the dignitaries and we have anyway invited all VIP friends for tomorrow's reception," said Narayan Unni.
Family sources said the couple was planning to visit Spain before they would be married Kashmiri style, as Sunanda is a Kashmiri Brahmin, in Dubai, on August 30. Another reception would be held in New Delhi on September 3.
A day before his wedding, Tharoor tweeted, "Onam wishes to all & thanks for the many congratulatory messages on my marriage to Sunanda tomorrow @ancestral village." Asking the media to respect his privacy, he also tweeted, "Grandmother's home besieged by TV crews. May I appeal to media to please respect my privacy at this personal moment for my family?"
Get Breaking news, live coverage, and Latest News from India and around the world on NDTV.com. Catch all the Live TV action on NDTV 24x7 and NDTV India. Like us on Facebook or follow us on Twitter and Instagram for latest news and live news updates.