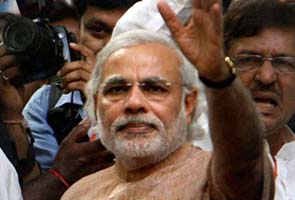 New Delhi:
Dismissing a semblance of threat from the newly-announced Team Modi, the Congress has said the BJP would be "shattered" in the in 2014 general elections.
"As far as BJP is concerned, from 2004 to 2013, they have announced a lot of teams like cricket, hockey, football and political teams. They have always been vanquished. And this time too, it will be no different," Information and Broadcasting Minister Manish Tewari said.
The BJP yesterday announced a fleet of 20 star-studded committees to manage different aspects of the party's election campaign under Gujarat Chief Minister
Narendra Modi
, recently elevated as election campaign chief.
A 15-member central election committee will have as its members, apart from Mr Modi, leaders like LK Advani and former Prime Minister Atal Bihari Vajpayee, party president Rajnath Singh, former party presidents Venkaiah Naidu and Nitin Gadkari, key leaders Sushma Swaraj and Arun Jaitley and the BJP's chief ministers. (
Highlights
)
Veteran Murli Manohar Joshi will head the manifesto team for the 2014 general elections; Ms Swaraj and Mr Jaitley will look after all publicity. Both these teams include Modi-aides - PK Dhumal will help with the manifesto and the controversial former Gujarat minister Amit Shah is part of the publicity team.
Mr Shah will also partner with Navjyot Singh Sidhu to focus on new voters. Rajya Sabha MP Piyush Goyal will handle the party's activities online, specifically on social media.
Venkiah Naidu and party general secretary Varun Gandhi will be in charge of organising more than 100 big rallies in different states from August, in which the BJP will field "a galaxy of leaders," senior leader Ananth Kumar announced yesterday.
Nitin Gadkari, who was denied an unprecedented second term as BJP chief earlier this year over allegations of corruption, is leading the exercise to fashion the BJP's vision document for 2014. He has also been given special charge of Delhi, which votes for a new Assembly later this year.
The BJP's parliamentary board, made up of its top 12 leaders, had signed off on these committees after a marathon meeting on Thursday.