New Delhi:
Prime Minister Narendra Modi will land in Tel Aviv on Tuesday,
becoming the first Indian prime minister to visit Israel
, the result of growing ties that have led to billions of dollars in defence agreements. However, both sides say the visit will include a lot more than just arms deals, broadening collaboration in water, aerospace and agriculture technology. Israel, in constant search of allies to vote in its favour at UN bodies as well as business partners, has been portraying the visit as historic - a tone mirrored by the Indian Prime Minister ahead of the three-day trip.
"Tomorrow, I begin a historic visit to Israel, a very special partner of India's," PM Modi said on Twitter today.
Earlier, his Israeli counterpart Benjamin Netanyahu called PM Modi ''my friend'' whose ''historic visit'' was a ''fruit of the policy initiated by Modi and myself in the recent years''.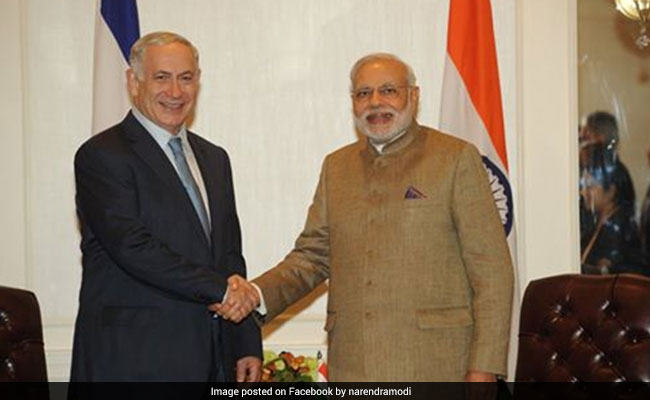 Officials in India say the main focus of the meet will be cooperation in agriculture, water, and security, especially cyber security. With the use of technology, Israel has transitioned from a water-deficit country to one with a significant water-surplus, exporting water to countries like Jordan. Therefore, collaboration in the sector, along with agriculture and irrigation, could be a key aspect of the discussions.
Despite weapons
not being billed as a prime agenda of the visit
, deals in the sector will be closely watched. India is the world's biggest importer of defence equipment, and Israel has become one of its major suppliers. Israeli media have reported that the two countries see more than $1 billion in defence deals each year.
During his visit, PM Modi will hold talks with Mr Netanyahu to advance sales and production of missiles, drones and radar systems under his signature "Make in India" drive, officials in Delhi and Tel Aviv told news agency Reuters.
(With inputs from agencies)
Get Breaking news, live coverage, and Latest News from India and around the world on NDTV.com. Catch all the Live TV action on NDTV 24x7 and NDTV India. Like us on Facebook or follow us on Twitter and Instagram for latest news and live news updates.