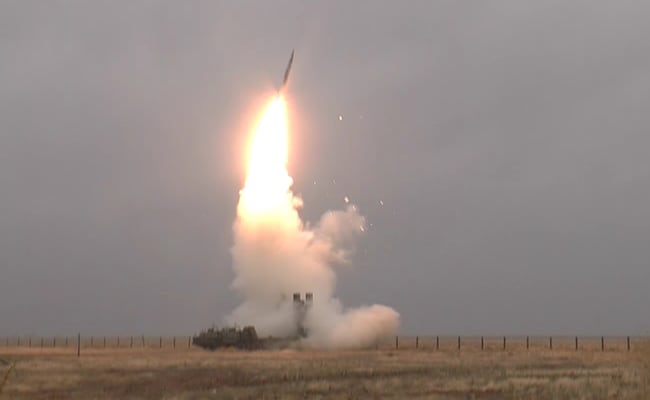 Highlights
India to buy five S-400 air defence systems for $5 billion from Russia
Exclusive footage shows S-400 missiles blasting off from launch pads
PM Modi meets Vladimir Putin today in Goa to sign the deal
New Delhi:
Prime Minister Narendra Modi has signed a deal with Russian President Vladimir Putin to acquire Moscow's most advanced air defence system.
India has signed up to acquire five S-400 'Triumph' anti-missile defence systems for $5 billion or 39,000 crores.
The exclusive high-resolution footage shows several S-400 missiles blasting off from their launch-pads on intercept missions by day and by night. Most of this footage, shared by the missile manufacturer, has not been broadcast before.
The S-400 air defence system will provide security to India's key installations. (video courtesy: Almaz-Antei)
Mr Putin met PM Modi in Goa today on the sidelines of the BRICS Summit involving the leaders of Brazil, Russia, India, China and South Africa.
The S-400 is Russia's most modern air defence system and has been deployed to Syria, where Moscow is conducting a bombing campaign in support of long-time ally Syrian President Bashar al-Assad.
The system can track some 300 targets and shoot down around three dozen simultaneously over a range of 400 kilometres. The sensitive radars of the system are thought to be able to detect even stealth aircraft which present a very small radar cross-section and are often impossible for other systems to track.
The missiles India is acquiring will likely provide large cover around high-value installations including nuclear power plants and key government centers. They are also expected to provide India with a missile-shield for protection against Pakistani or Chinese nuclear-capable ballistic missiles.
An agreement with Russia to build frigates for the Indian Navy has also been signed today, as well as a deal to set up a joint venture in India to build multi-task Kamov-226 helicopters.
India has signed a series of key defence deals under PM Modi as part of a $100 billion upgrade of its Soviet-era military hardware.
In September, after nearly a decade of discussions and setbacks, India signed a deal to acquire 36 French Rafale fighter jets for 7.9 billion euros ($8.8 billion) to bolster its military against an increasingly assertive China.