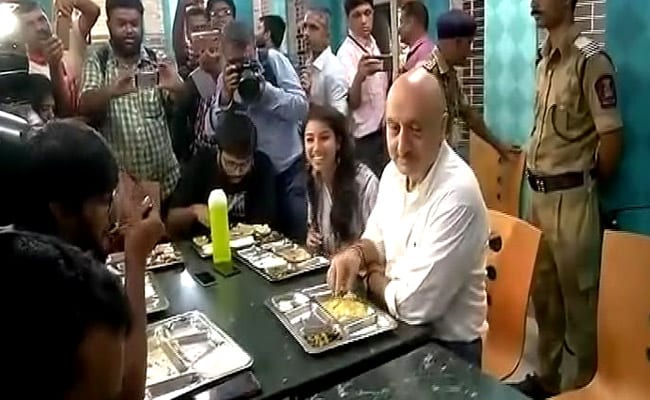 Pune:
Newly appointed Film and Television Institute of India (FTII) Chairperson Anupam Kher today visited the campus unannounced and promised the students that he is on their side.
In a live video on social media, Mr Kher revealed that he was on his way to FTII. He caught the guards, students and faculty by surprise when he walked the streets of the institute where he once studied around 40 years ago.
"I am heading towards an institution where I had studied in 1978, which was very important for my foundation as an actor. And today, I have not informed anybody at this institute that I am coming, because I wanted to go back again as a student," he said.
"I didn't want to go there feeling important, and feeling 'Oh my God, now I have done 508 films and I have been in movies for 33 years, I have done more than 120 plays. I wanted to go there as a humble student," he added.
The veteran actor, 62, focused his camera at the FTII gate, saying, "This is the amazing gate which gave me an amazing insight into life, and into the life and times of great filmmakers like Satyajit Ray and Mrinal Sen."
Actor Anupam Kher was on October 11 announced as the new Chairperson of FTII. He succeeded Gajendra Chauhan, whose appointment in 2014 had triggered widespread student protests.
As the actor made his way into the institute, he met a group of protesting students who held a banner that read, "12 hours shift is inhuman".
It is one of the nine key issues that were raised by the FTII Students' Association in an open letter addressed to him a day after his appointment.
The students had pointed to how "limitations have been brought into exercise norms as part of the new syllabus".
Citing the norms brought in place for dialogue exercise in the third semester, the letter said, "These limitations are logistically not feasible, like the three-day eight-hour shift has been reduced to a two-day twelve-hour shift which would be exhausting and also inhuman to force the lightmen, carpenters, painters and make-up artists and actors to work at such a stretch."
Mr Kher assured the students that he will work out solutions with them. We will work on all this, he said
"First of all, you have to know that I am on your side, completely... I don't want to bring any baggage of Anupam Kher. I am here for what I have done over the last so many years because of the six months that I spent here. Don't worry about it (the problems) because I know every student who comes to this place, comes to study so that they can work on their future when they go back. You are the contributors of our society, the future filmmakers, actors... So let's sort out these problems and work on these issues," he said.
He tried to pacify the crowd with the title of his play "
Kuch Bhi Ho Sakta Hai"
.
"
Wahi hoga
(That will happen)," he stressed, urging students to first share their issues, after which he would share his vision with them.
He also said he was keen to take an acting class at the institute.
"The biggest joy for me is to teach in the place where I was a student," said the actor, who has his own acting institute.