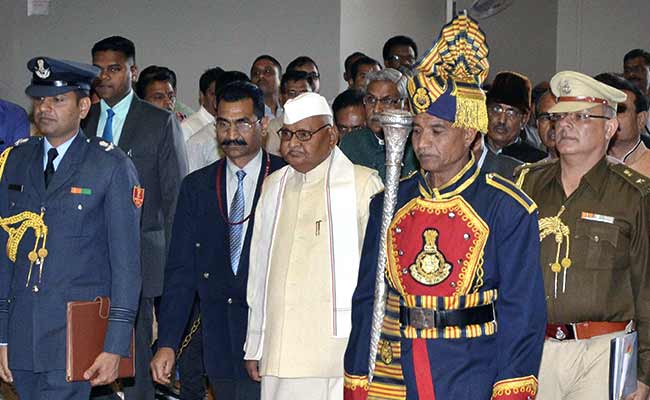 New Delhi:
The Centre is actively considering removing Madhya Pradesh Governor Ram Naresh Yadav, sources have said, after the Supreme Court today issued a notice to him on a petition on his alleged role in the Vyapam scam.
Union Home Minister Rajnath Singh will meet President Pranab Mukherjee this evening and is expected to discuss today's developments with him. The President's view will weigh heavily on whether the Centre will act right away or wait for Prime Minister Narendra Modi's return on Sunday from his eight-day foreign tour.
The options for the government are limited; at present the decision, said sources, is more about whether it will remove Mr Yadav or save him the ignominy by allowing him to resign.
The Supreme Court - which has today asked Mr Yadav and the Centre to reply within four weeks on a petition that challenges the quashing by the Madhya Pradesh High Court of a First Information Report or FIR against him - will soon also hear a petition seeking his removal.
The BJP-led Centre has been under massive pressure from the Opposition and activists to remove Mr Yadav and, sources said, had decided more than six months ago that he must go. But that would have made its Chief Minister in the state, Shivraj Singh Chouhan more vulnerable to the Congress' attacks.
The Congress has accused Mr Chouhan of a cover-up and has demanded that he resign after an alarming number of deaths of people linked to the Vyapam scam. The Supreme Court today transferred investigation into the scam and the deaths to the CBI.
Governor Ram Naresh Yadav was named as an accused in an FIR filed by the Madhya Pradesh Police, but the High Court had ruled that the Governor was protected by constitutional immunity and could not be investigated while in office. Many of the others named with Mr Yadav in the case are now in jail.