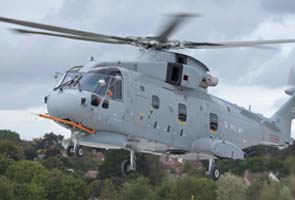 New Delhi:
At a time when his party is targeting the government on the VVIP chopper deal, senior BJP leader Jaswant Singh today came to the rescue of beleaguered former Air Force Chief S P Tyagi while admitting that the required parametres in the tender were changed during the NDA rule.
Mr Singh, who was the Defence Minister in the Vajpayee government, said the guilty in the issue is an Italian company and people "have forgotten them".
He favoured expeditious and thorough probe into the allegations of payment of kickbacks in the Rs 3600 crore deal.
"We should not make wild allegations against a former Air Chief. It is not in the interest of both the Air Force and the country. The probe is on. As Air Chief Marshal (retired) Tyagi himself is saying, the probe should be held early. Why don't you agree to his suggestion," Mr Singh said.
He added, "We should not make allegations against each other till the truth is known."
The BJP leader's comments assume significance in the context of high decibel attack launched by his party against the government, including Prime Minister Manmohan Singh besides Congress chief Sonia Gandhi over the scandal.
Mr Singh admitted that the tender specifications were changed during NDA rule. "Yes, what he has said is true," he said when asked to comment on remarks by former Air Force chief Tyagi that the specifications in the tender were changed in 2003 during the NDA rule.
At that time, George Fernandes was the Defence Minister. Italian prosecutors have contended that the specifications were altered to make AgustaWestland's helicopters eligible in the contract for the 12 VVIP helicopter deal.
Among the changes made were the reduction in the altitude from 18,000 ft to 15,000 ft and it is alleged that the then National Security Advisor (NSA) Brajesh Mishra was instrumental in these alterations.