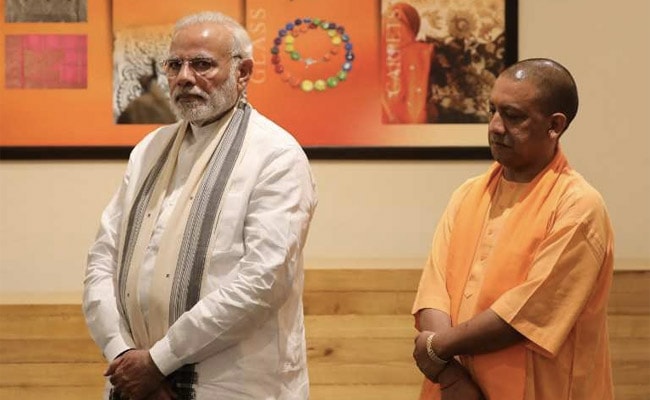 Highlights
Gorakhpur has been counted as one of the BJP's safest seats
Yogi Adityanath called bypolls "dress rehearsal for 2019 elections"
UP defeat means BJP's tally in Lok Sabha will dip to 272
Gorakhpur:
Gorakhpur, the Uttar Pradesh parliament seat that Yogi Adityanath represented as a BJP lawmaker for two decades before vacating it last year to take over as Chief Minister, has chosen the Samajwadi Party this time. The Samajwadi Party, backed in a rare arrangement by Mayawati's Bahujan Samaj Party, has also won the by-election in Phulpur, the seat vacated by Yogi Adityanath's deputy Keshav Prasad Maurya. The results deliver a body blow to the Uttar Pradesh chief minister, who took upon himself the task of asserting the party's hold in the state it swept in assembly elections last year, fronting the by-election campaign and seeking no reinforcements from the party leadership.
Impact of the Gorakhpur defeat on the BJP in 5 points:
Gorakhpur has been counted as one of the BJP's safest seats owing to Yogi Adityanath's complete hold on it. The 45-year-old was the Gorakhpur lawmaker since 1998 for five terms till he resigned after being picked to be chief minister. Before Yogi Adityanath, his mentor Mahant Avedyanath was the Gorakhpur MP for three terms starting 1989. Yogi Adityanath also succeeded Mahant Avedyanath as the powerful head priest of the Gorakhpur Matt.

Yogi Adityanath had called the by-elections a "dress rehearsal for the 2019 Lok Sabha elections." The BJP's hopes for re-election at the centre hinge heavily on a good performance in UP and the party wants a repeat of its landslide victory in 2014, when it had, along with allies, won 73 out of the state's 80 parliament seats. It followed that up with a sweep of assembly elections last year and the party had hoped for its winning streak to continue.

It's a big loss of face for Yogi Adityanath, seen as a mascot of the BJP's Hindutva hardline and who was handpicked to lead the party in the crucial state ahead of the 2019 election. It is also a setback for the Hindutva agenda that Yogi Adityanath has sought to revive after taking over.

The election result today has validated the unusual decision of the Samajwadi Party and the BSP, bitter rivals for 25 years, to join hands to consolidate their voter bases to defeat the BJP in the by-elections. It is a message that such an alliance can be a gamechanger and that the BJP's strategists could now have to counter a new Bihar-type "Grand Alliance" in UP.

The UP defeat means that the BJP's tally in the Lok Sabha has dipped to 274 - only two more than the halfway mark of 272 - having lost seven seats in by-elections since 2014. The party had won 282 seats, signaling often that it was well over the halfway mark on its own and didn't really need its allies. Its partners have complained of being given little importance by the BJP in their national alliance NDA and, ahead of the 2019 elections, can now flex some muscle.
Post a comment