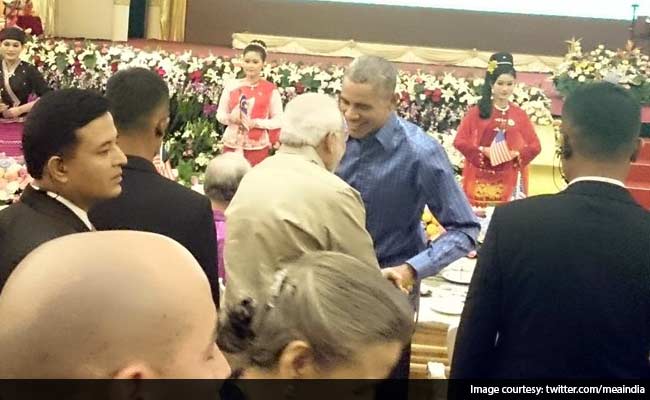 Nay Pyi Taw, Myanmar:
Prime Minister Narendra Modi had a brief interaction at Nay Pyi Taw with Barack Obama, during which the US President called him a "man of action".
PM Modi and President Obama met each other for the second time in six weeks at a gala dinner in the Myanmar capital after the President played host to the Prime Minister at the White house in Washington in the last week of September.
"Prez Obama greets PM @narendramodi at Gala dinner - 'You are a man of action!," External Affairs Ministry spokesperson Syed Akbaruddin tweeted after the dinner.
The dinner was hosted by Myanmar President Thein Sein for world leaders attending the ASEAN and the East Asian summits. On the eve of their summit talks, President Obama had hosted a rare private dinner for PM Modi at the White House on September 29.
PM Modi was welcomed by Obama who greeted him in Gujarati, "Kem Chho?" (how are you?), the mother tongue of the Prime Minister.