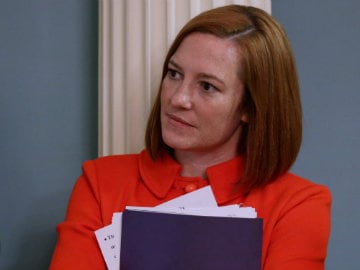 Washington:
The United States has hoped its National Security Agency surveillance on the BJP, revelation of which has highly been objected by New Delhi, would not have an adverse impact on the bilateral relationship between the two countries.
"We certainly hope not," State Department Spokesperson, Jen Psaki, told reporters yesterday at her daily news conference when asked about the strong protest lodged by India against the alleged spying of BJP by the National security Agency.
BPS figured in the list of foreign political parties along with Lebanon's Amal, the Bolivarian Continental Coordinator of Venezuela, Egypt's Muslim Brotherhood, Egyptian National Salvation Front and the Pakistan Peoples Party for whom the National Security Agency (NSA) had sought permission to carry out surveillance, said the document made public by The Washington Post early this week.
"We look forward to continuing discussion on a full range of bilateral and regional issues. There has been an invitation issued for a visit, and we are looking forward to that, hopefully in the fall," Psaki said in reference to the possible September visit to the US by the Prime Minister Narendra Modi.
Psaki said American diplomats met Indian officials in this regard.
"I can confirm that diplomats from our embassy have met with their MEA (Ministry of External Affairs) counterparts on this issue, but I am not going to get into the substance of our private conversations," she said.
Without directly mentioning India, the State Department spokesperson said the US is talking with the Indian Government to increase confidence between the two countries on this issue.
"As you know, since January 17th, the (US) President has made clear that he is instructed his national security team as well as the intelligence community to work with foreign counterparts to deepen our coordination and cooperation in ways that rebuild trust moving forward," Psaki said.
She refrained from confirming if the BJP has been taken off the list of global political organisations that is being spied upon by the NSA or the US has assured to the Modi Government that it would not be done in the future.
"I am just not going to have any more details I can lay out for you, other than to convey that we have a deep and broad partnership with India. We will discuss any concerns that we need to discuss through our private diplomatic channels", Psaki said.
"And obviously, that is already ongoing, including as it relates to these specific reports," she added.