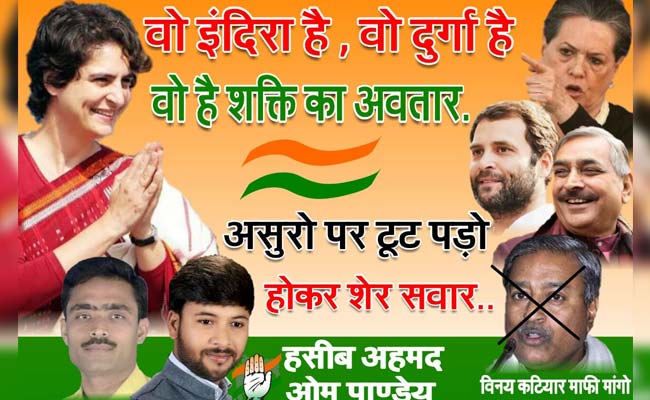 New Delhi:
Priyanka Gandhi Vadra is "Indira Gandhi and Goddess Durga" in a Congress poster that has sprung up after BJP lawmaker Vinay Katiyar's widely criticized comment about "prettier campaigners" in his party.
The poster, shared on social media, also demands Vinay Katiyar's apology.
"
Woh Indira hai, woh Durga hai, who hai shakti ka avatar
(she is Indira, she is Durga, she is the embodiment of power)," it reads.
Ms Vadra, who bears a striking resemblance to former Prime Minister Indira Gandhi, her grandmother, had laughed off Mr Katiyar's comments in connection with her name being included in the Congress' list of campaigners for the February-March Uttar Pradesh election.
Asked by a reporter how she would impact the UP campaign, the BJP leader had said, "What difference will it make? We have more beautiful star campaigners...heroines, artistes...they are better. His party BJP has called the remarks "condemnable and unacceptable", but Mr Katiyar refused to apologise.
Ms Vadra's reaction, tweeted by one of her aides, was this: "...if that's all he sees in my colleagues who are such strong, brave and beautiful women that have battled through all sorts of hardships to get where they are, then he makes me laugh even more."
Speaking to NDTV later, Mr Katiyar described Ms Vadra like his "
bhateeji
(niece)"and wondered how his comment was offensive in any way.
The name of Congress president Sonia Gandhi's daughter in the list of campaigners sparked a huge buzz and reinforced speculation that the 45-year-old is prepping for a bigger role in the party. She has never campaigned outside the Gandhi family constituencies of Raebareli and Amethi. The party says her name on its list doesn't necessarily mean she will break that pattern.
That hasn't stopped Congress workers from hailing Ms Vadra's entry into active politics, especially through posters.