Highlights
A 25-year-old accident victim was brought to Jhansi Medical College
After amputating his foot, doctors reportedly used it as a headrest
The government has suspended the doctors, staff members; probe ordered
Lucknow:
The severed, bloodied foot of a man is used as a headrest to prop him up: the stomach-churning scene is not from a macabre Bollywood movie but seen in cellphone footage filmed at a large government hospital in Uttar Pradesh's Jhansi district.
Doctors at a state-run medical college allegedly used the amputated foot of the patient as a headrest for the man because a pillow was not available, local reports said.
The incident took place at the Jhansi Medical College, which claims to be a super speciality hospital that serves many districts in Uttar Pradesh's Bundelkhand region. The video appeared to have been shot on Saturday morning.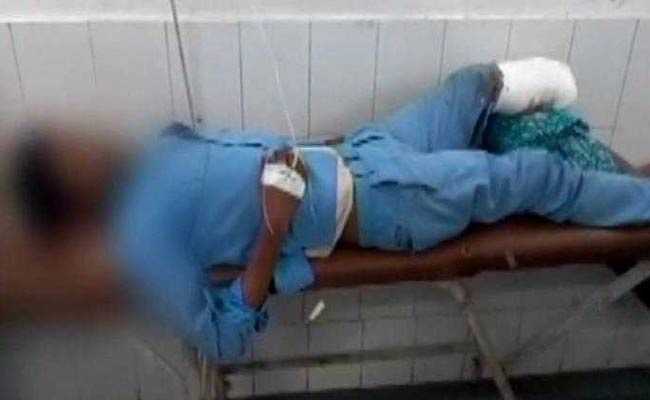 According to reports, 25-year-old Ghanshyam was brought to the hospital after a school bus in which he was travelling lost control and overturned while trying to avoid a collision with a tractor on Saturday. He worked as a helper in the bus. Twenty-five schoolchildren were also injured in the accident, reports said.
He was then taken to Jhansi Medical College, 45 km from the accident site, where doctors amputated his leg and then placed it under his head as a pillow, his relatives have alleged. A pillow was not given.
"When we reached the hospital, we saw his leg being used as a headrest. I repeatedly asked the doctors to intervene but they refused. Finally, after about two hours, I managed to get a pillow for him from the market and that's when the leg was removed," said Janaki Prasad, a relative who was among the first to reach the hospital.
The Uttar Pradesh government said a probe has been ordered and action will be taken against those found responsible. Medical Education Minister Ashutosh Tandon has ordered the suspension of emergency medical officer Dr Mahendra Pal Singh, senior resident Dr Alok Agarwal and nurses Deepa Narang and Shashi Srivastava.