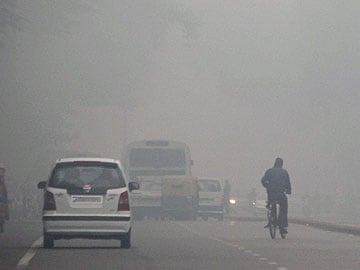 Chandigarh:
Fog made its first appearance today at several places in Punjab and Haryana, leading to traffic jams and accidents due to reduced visibility that claimed two lives in Bhatinda and injured several near Ambala.
In a fog-related mishap, two persons were killed when their vehicle collided with a bus on Dabwali road in Bhatinda, Station House Officer Avatar Singh said.
Seven employees of a company were injured when a vehicle turned turtle on Punjab-Haryana border, close to Ambala, police sources said, adding that fog had reduced visibility in the area, which could have triggered the mishap.
Fog also caused minor accidents at some other places in the two states, sources said.
According to the MeT Department, a thick blanket of fog enveloped Amritsar, Ludhiana, Karnal and Hisar while the weather remained misty in Chandigarh at a temperature of 8.4 degrees Celsius.
Meanwhile, cold conditions gripped most places in the two states, with Ludhiana turning out to be the coldest place at 5.2 degrees Celsius.
Amritsar also had a cold night at 6 degrees Celsius while Patiala's minimum temperature settled at 7.8 degrees Celsius.
In Haryana, Hisar was the coldest place at 5.8 degrees Celsius.
Ambala recorded a low of 8.5 degrees Celsius while Karnal recorded a temperature of 6.6 degrees Celsius.
The minimum temperatures at Narnaul and Bhiwani settled at 7 degrees Celsius and 6.8 degrees Celsius respectively.