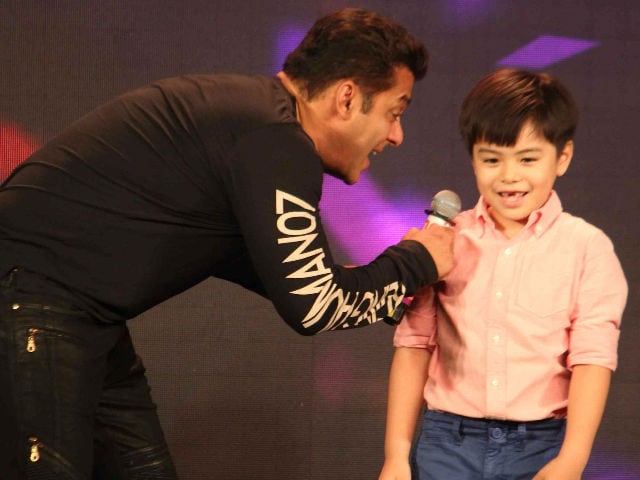 Highlights
Matin Rey Tangu's wit and confidence made headlines
After the event Matin told Salman he was shy because of 'so many cameras'
Salman and Matin's Tubelight releases on June 23
New Delhi:
Soon after Salman Khan introduced Matin Rey Tangu - the
child actor from Tubelight
- on Monday at an event in Mumbai, the media fell in love with him. Though his wit and confidence made headlines, Salman Khan told a journalist that Matin was not himself, he was, in fact, shy. Salman said, "After the event, I asked Matin why you didn't say this and that, why were you so shy? And he looked at me and said, "
Hum sharma gaya. Kitna bahadur banu? Itna camera that udhar, itna camera dekha nahi hai kabhi
(I felt shy, how brave should I be? There were so many cameras; I have not seen so many cameras)."
You'd never know it - just watch footage below. At the media event, once Matin had the mic, he first invited his brother and his father on stage and asked them, "
Aapko kaisa lag raha hai
(How do you feel)?" His father said that he feels
extremely proud of Matin's hard work in Tubelight
. He even handled an awkward moment in style - a reporter present at the event presumed that Matin is Chinese and asked him if this was his first trip to India.
Matin, who is eight, confidently replied
, "
Hum India per hi baithta hai, toh India mei toh aayega na
(I live in India only, so I will come here)."
Matin Rey Tangu was introduced as a part of the promotion plan for
Tubelight
. The makers were confident that the child actor will be able to pull off an entertaining event and draw all the right attention to the film in the release week.
Matin landed the role through a casting agency, and then made it to the auditions where he was finally selected by director Kabir Khan. He plays an important role in
Tubelight
- once Sohail Khan's character leaves to join the India-China war of 1962, and his brother Laxman (Salman Khan) is left alone, it's this child actor who gives Laxman company and helps him cope with life.
Kabir Khan's
Tubelight
releases this Friday. It also stars Chinese actress Zhu Zhu.