Mumbai:
Highlights
Matin Rey Tangu, from Itanagar in Arunachal Pradesh, is non-stop entertai
Matin thinks nothing of interrupting Salman or telling him off
Matin has an integral role in Salman Khan's Tubelight releasing on Friday
Salman Khan's new film
Tubelight
, coming up this week, might remind of you his 2015 blockbuster
Bajrangi Bhaijaan
on several fronts - Kabir Khan directs both films; in each, Salman's character is on a quest - to return a lost little girl to Pakistan in
Bajrangi Bhaijaan
and to find his brother, a soldier who goes MIA, in
Tubelight
; and an
adorable pint-sized actor stars in both
. If you thought Harshali Malhotra, the six-year-old who played Munni in
Bajrangi Bhaijaan
was cute, prep for double that in the form of Matin Rey Tangu, all of eight, who stars with Salman Khan in
Tubelight
.
A Salman film usually requires little promotion. Unlike the publicity rounds that other celebs make, Salman Khan's appearances in aid of a film are minimum - he needs no press to guarantee a big opening, nor does he worry about what the reviews will say (before Sultan last year, he invited critics to give his film no stars or not review it at all). This year, however, producers of
Tubelight
introduced - and perhaps the word we should be using is unleashed - a highlight of the film four days ahead of release:
Matin Rey Tangu, a tiny livewire from Itanagar
in Arunachal Pradesh, is non-stop entertainment and it became swiftly clear that his appearance is a coup for the makers of the film.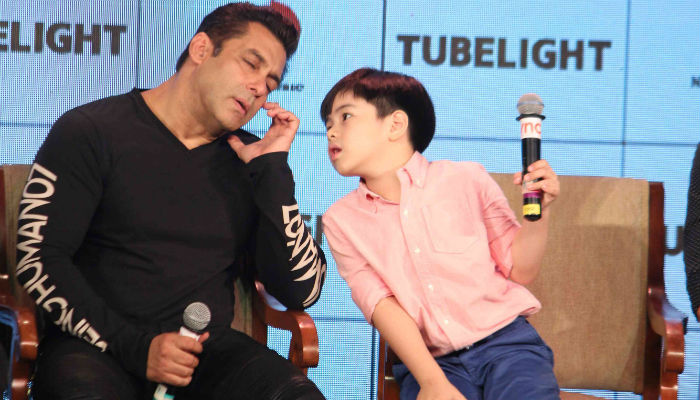 In Mumbai at a press interaction on Monday, Matin was the main event, all but upstaging Salman and that's hard to do. His one-liners dispatched both Salman Uncle and Kabir Uncle with disarming ease, delivered a 'stupid joke' or two, and called up his dad and brother on stage - "
Aapko kaisa lag raha hai
?" he asked them, to which his father said he was extremely proud of his son's hard work. Matin thinks nothing of interrupting Salman, telling him off for borrowing his joke, and lecturing Kabir Khan on how saving the best for last (the director's explanation of why the Matin has been put centerstage only now) is like eating a bag of chips. Matin always says the right thing, responding to Salman Uncle's ribbing about how much money Munni made off
Bajrangi Bhaijaan
by saying that he "just wants to act."
Kabir Khan had a great time directing Matin, telling NDTV.com, "He came through the casting team and he is wonderful to work with. We had shortlisted 10 child actors and Matin was selected from those ten. Working with such kids is such a joy! He has no filter. He once went to Salman and asked Munni ki film ne kitna paisa kamaya? (How much money did Munni's film make?)." Therefore Salman's question.
Watch the filter-less Matin Rey Tangu here. Warning - he's hilarious:
Tubelight
is set against the 1962 war with China and co-stars Chinese actress Zhu Zhu. Matin Rey Tangu's extreme youth defused an awkward moment when a reporter, who assumed the eight-year-old is also Chinese, asked him if this was his first visit to India, quickly changing it to Mumbai when corrected by a fellow reporter. Matin, who is from Arunachal Pradesh, happily oblivious, responded, "
Hum India per hi baithta hai, toh India mei toh aayega na
(I live in India only)." It's the sort of off-hand racism, rooted in ignorance, that the North East of the country is often subjected to. Matin, only eight, has some years to go before the import of this sinks in.
Tubelight
also stars Salman Khan's actual brother Sohail
as his reel-life sibling Bharat, a soldier who goes missing during the war. As Laxman, Salman sets out in search of his brother, meeting Matin along the way.
Tubelight
releases this Friday, two days ahead of Eid.