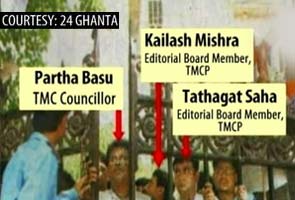 Kolkata:
As a mob stormed into the Presidency College in Kolkata and used spears and other weapons to attack students and property, a local leader from Mamata Banerjee's Trinamool Congress stood at the gate along with three activists of the party's student wing.
The footage, broadcast on a Kolkata channel today, undermines the Trinamool's denials of any links to the 30-minute rampage at one of Bengal's most prestigious education institutions.
Trinamool Councillor Partha Basu is seen on camera holding on to the bars of the massive gate, while a group of people carrying Trinamool flags try to climb it.
Mr Basu has promised to "resign this instant" if it is proven that he entered the campus. He claims that Left student activists threw stones at a Trinamool rally, of which he was a part, as it was passing the university.
Presidency students say a group of at least 100 people carrying Trinamool flags were armed with spears and sticks and struck students and teachers while the police refused to intervene, claiming that it "had no orders from above".
A young girl said women students were threatened by the trespassers that they would be raped.
"They started beating up whichever students they found, they chased girls, and made obscene remarks. The four policemen here took no action. The staff went down to protect students," said the university's Vice Chancellor Malabika Sarkar to NDTV.
Trinamool leader Derek O'Brien told NDTV that the Trinamool has no student wing at Presidency, and that the violence was planned by the Left.
Ms Banerjee's party has been on a vicious offensive in Bengal since Tuesday, when she was heckled in Delhi by student activists affiliated to the Left. They were protesting against the death of a 22-year-old student in police custody, denounced by Ms Banerjee as "a petty matter".
(Delhi is not safe, says Mamata)