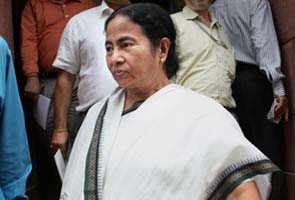 Kolkata:
Trinamool Congress chief Mamata Banerjee made it clear today the no-confidence motion that her party has planned against the UPA government is no empty threat.
Ms Banerjee said the Trinamool Congress will move the no-confidence motion on the first day of the Winter Session of Parliament on November 22. She appealed to all parties, including the Bharatiya Janata Party (BJP) and the Left, to support the move.
The Trinamool Congress has 19 MPs in the Lok Sabha. To bring a no-confidence motion, the support of 50 MPs is needed.
Ms Banerjee, who is also the chief minister of West Bengal, said she was ready to hold talks with all parties to get their support. The UPA government is corrupt and in minority and has no right to stay in power, she said.
Ms Banerjee's move comes amid efforts by the UPA government to shore up the support of its allies as well as reach out to the opposition parties on contentious issues, such as FDI in multi-brand retail, that are expected to rock the Winter Session.
Prime Minister Manmohan Singh was scheduled to meet top BJP leaders Sushma Swaraj, Arun Jaitley and LK Advani tonight for discussions over dinner, but the meeting was cancelled after Shiv Sena chief Bal Thackeray's death in the afternoon.
Yesterday, Dr Singh had hosted a dinner where the Congress consulted its allies on a joint strategy to steer the retail reforms through in Parliament.
Sources said there was no outright support within the BJP for the no-confidence motion and the main opposition party would be consulting the Left and other parties for floor strategy during the Winter Session.
CPI(M) politburo member Sitaram Yechury questioned the move, saying: "The track record of the Trinamool Congress has been such that they say something and do another thing. So till something happens tangibly, we won't be able to decide."
The Congress brushed aside the challenge from Ms Banerjee. "The Congress is ready to face the no-confidence motion. We have majority," said party spokesperson Rashid Alvi.
(With PTI inputs)