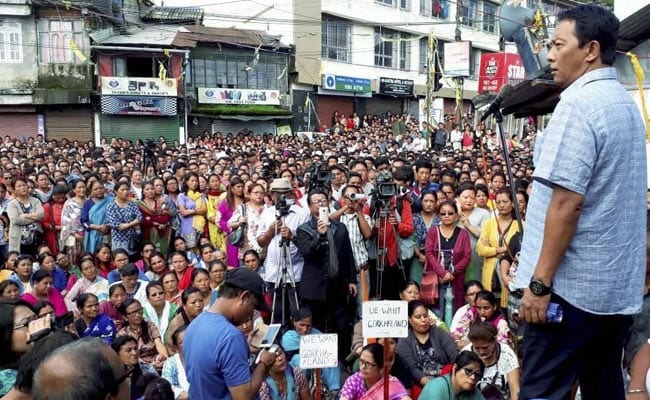 Darjeeling:
Vehemently opposing the withdrawal of the ongoing shutdown for 12 days in the north Bengal hills, Gorkha Janmukti Morcha chief Bimal Gurung has accused some of his party leaders of joining hands with the West Bengal government and conspiring to foil their agitation for a separate state of Gorkhaland.
Terming such leaders as 'traitors', he appealed to the locals to further intensify the agitation from Friday so that the announcement of GJM's chief coordinator Binay Tamang to call off the shutdown from September 1-12 did not become successful.
"For the last three months we have been fighting for the prestige of our community. But I got the signal for the last few days that some of our leaders have joined hands with the Bengal government to fail our long standing movement for Gorkhaland," Gurung alleged in a voice clip from an undisclosed location.
"We appeal to the Gorkha people to strongly oppose Binay Tamang's announcement to call off the strike. In order to ensure that the shutdown is not withdrawn, the agitation in all parts of the hills needs to be further intensified from tomorrow," he said, accusing Tamag of playing into the hands of the state government.
Mr Gurung claimed that he has information and proper evidence of some of his party leaders' involvement in the conspiracy with the Bengal government to foil the Gorkhaland movement.
He also accused those leaders of helping the state administration and police to intimidate him and force him to remain underground so that the movement loses its intensity without proper leadership.
"The leaders who participated in the talks with the state government have joined hands with them and the police to intimidate me and force me to go underground for more than a year in order to dilute the movement," the GJM chief alleged.
Pointing out that West Bengal Chief Minister Mamata Banerjee has refused to discuss the demand of Gorkhaland stating it is not in their hands, Mr Gurung questioned the fruitfulness of any other meetings with the state to fulfil the demand of Gorkhaland.
"Chief Minister Banerjee said during the all party meeting that the demand of Gorkhaland is not under her jurisdiction and refused to discuss the issue. What else should we discuss with her then?" he questioned.
"If Gorkhaland is out of the state's jurisdiction, what resolution would come out by again talking to the Chief Minister or the state administration on September 12?" he added.
GJM Joint Secretary Binay Tamang on Thursday announced the indefinite shutdown in the Darjeeling hills will be withdrawn from September 1 to September 12 till the second round of all party meeting with the state government is conducted and then decide about reinstating the shutdown depending on the meeting's outcome.
Following party chief Gurung's announcement that the "Bandh (shutdown) has not been withdrawn" the GJM activists and supporters took out processions and torch rallies at several parts in the hills in support of the ongoing shutdown.
(Except for the headline, this story has not been edited by NDTV staff and is published from a syndicated feed.)