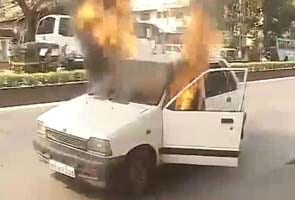 Mumbai:
Mumbai and other major cities in Maharashtra saw spasms of violence today provoked by two political parties at war - Sharad Pawar's Nationalist Congress Party or the NCP, and Raj Thackeray's Maharashtra Navnirman Sena (MNS).
Senior leaders of both parties unabashedly promised worse could follow.
Six people in Mumbai have been arrested for rioting, all of them belonging to Mr Thackeray's party. (
See pictures
)
The dispute is rooted in Mr Thackeray's recent speeches in which he has criticised senior NCP leaders including Sharad Pawar and his nephew Ajit.
The NCP has co-governed Maharashtra with the Congress for a decade. Ahead of the state elections next year, Mr Thackeray has been touring NCP strongholds in western Maharashtra, declaring his rivals incompetent.
Last night, stones were hurled at Mr Thackeray's convoy as he was driving through Ahmednagar, about 270 kms from Mumbai.
After that, the two sides indulged in vandalism and threats.
"They tried to block the car of our leader Raj Thackeray. It seems they have forgotten they have to stay here. They should all remember their homes are in Mumbai," said Ram Kadam, a leader of Mr Thackeray's party.
Ajit Pawar of the NCP responded, "If someone indulges in
nautanki
(drama), then they should remember that NCP has the power and ability to give them a fitting reply."
Some MNS workers forced their way into the municipal corporation headquarters in Mumbai and vandalised the NCP office located there. Other cases of violence were reported in Pune and cities like Pune, Nagpur and Solapur. Public and private vehicles were set on fire.
Mr Thackeray's cousin, Uddhav, who heads the Shiv Sena, warned, "If NCP has the courage and it wants to indulge in stone-pelting, they should quit being part of the government. We will see how they fare in Maharashtra after that."