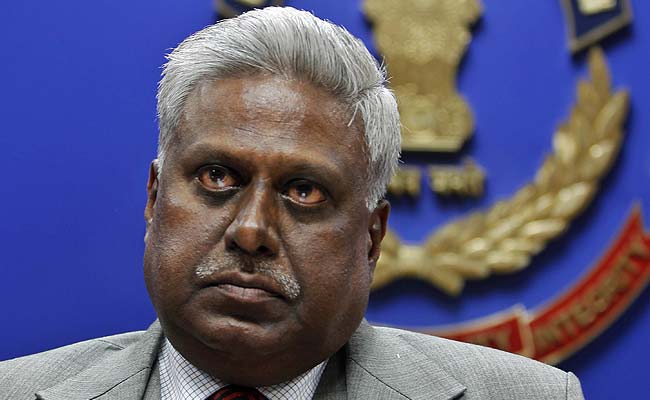 New Delhi:
The countdown to Ranjit Sinha's exit from the 2G case began when lawyer-activist Prashant Bhushan filed an affidavit in court in September alleging that the CBI chief was interfering his own agency's investigation into one of the country's alpha financial scandals. (
Will Abide by Supreme Court Order, Says CBI Chief Who Was Removed from 2G Probe
)
The basis of Mr Bhushan's allegation was a series of angry exchanges between Mr Sinha and then CBI Special Prosecutor UU Lalit, who said the CBI boss's interventions were damaging the case, which is centred on the sale of 2G telecom licences to businesses at throwaway prices in 2007-08.
Mr Lalit said that Mr Sinha had sought to file affidavits which would have weakened the case against those accused in the telecom case.
The charges against Mr Sinha gained strength with the surfacing of a visitors' diary maintained at his residence, which showed several 2G-accused holding private meetings with him.
Between 11 May 2013 and 15 August 2014, Tony Jesudasan and A N Sethuraman of the Anil Ambani Group made 50 visits. Several officials of the Group are charged in the 2G case.
Mr Sinha accepted the visits, saying he knew the two men socially.
Another individual under the 2G scanner, Mahendra Nahata, made 70 visits in the same manner. Mr Nahata was probed by the CBI for selling his company, which had acquired a 2 G license, to Videocon. The CBI looked at whether Mr Nahata's firm had functioned as a proxy company for the Videocon, but the case against him was later closed.
Another visitor was Sunil Bajaj, corporate relations head of the Essar Group. In December 2011, CBI charged Essar group promoter Ravi Ruia for not disclosing the extent of equity holding of Essar Group in Loop Telecom Ltd (Loop), which was alleged to be a front company used to acquire additional 2G spectrum. The visits by Mr Bajaj to Mr Sinha's home took place when the case was being heard by the court, which wanted to know why the CBI had not named him as an accused.
The final blow to Mr Sinha was a report by Anand Grover, the special prosecutor in the 2G case, who was asked by the Supreme Court to probe the allegations made by Mr Bhushan.
Mr Grover told the court that all the allegations were true, saying "Ranjit Sinha interfered in 2G case which is completely inconsistent with the agency's stand". Further, he said the 2G case could have been "demolished" if Mr Sinha's attempts to alter the investigation had been accepted in court.