Highlights
Junaid Khan, 16, was killed by mob on Delhi-Mathura train last week
NDTV team took the train on which Junaid was beaten to death
"Fights over seats are everyday business," says a daily commuter
New Delhi:
16-year-old Junaid Khan was stabbed to death on a train last week by a mob who accused him and his three companions of carrying beef in their bags. Junaid, his brother Haseeb and their two cousins were travelling back to their village in Haryana's Ballabhgarh from Delhi after Eid shopping when they were attacked with knives on Thursday evening. The teen was later thrown off the train at Asaoti station, just 30 kms from the national capital.
The fight that erupted over seats got bigger because they looked "different", Junaid's brother has told the police.
He said religious slurs were yelled at them
; his skull cap was pulled off his head, his beard was pulled and they were called "beef eaters" and "anti-national."
On Tuesday, an NDTV team took the train on which the 16-year-old Junaid was beaten to death. We got on the already jam-packed train from Okhla, a station from where Junaid's attackers may have boarded too. There was barely any place to stand, to be able to find a place to sit seemed improbable. The only way one could get a seat would be by forcibly asking a passenger to vacate one, a move that would definitely lead to an altercation.
"The fights over seats are everyday business, sometimes these fights do get out of hands," said Wasim, a daily commuter.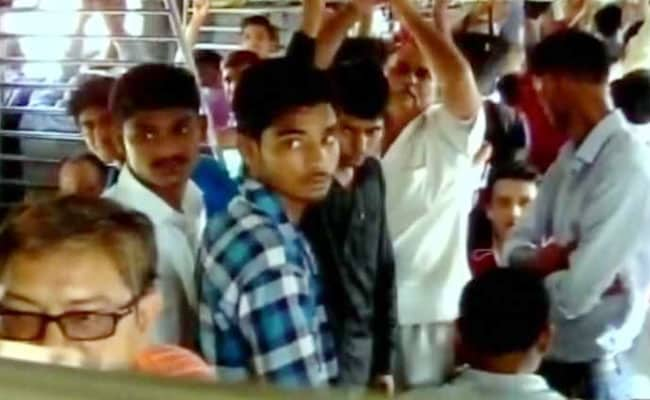 The train is not just overcrowded on this route, but, as commuters told NDTV, has a host of other issues too like drunk travelers, people gambling on board and some travelling without tickets.
"People in one of the compartments drink every evening, they even smoke marijuana and the police don't do anything," said Rahul Malik, a commuter, complaining that drunk people are a regular menace on the route. When asked, how many policemen are usually present on the train, Mr Malik and others said, "None, not even one."
Our team too found no policeman or railway official on board the train, puzzling only five days after a teen was brutally killed on the route.
In one compartment, some people sat smoking and gambling and when confronted, one of the men said defiantly, "We know it is not allowed but this is how it is here."
In the women's compartment, more than two dozen men were either sitting or standing. They, however, quickly got off at the next station when they saw our camera. The women on board complained of lack of safety and absence of policemen on board.
Dr Neelam Singla who travels daily to Asaoti, told NDTV, "Police boards the train sometimes but still can't control these men. The men usually get in this compartment, always passing lewd comments, and no one says anything to them."
As earlier reported by NDTV
, there were several people at the Asaoti station platform when Junaid was left for dead, yet not even one witness has come forward.
We asked the daily commuters why people were not coming forward and identifying the attackers.
"Everyone fears for their lives. If we go to save someone else and we get stabbed, what's the point?" said Ghanshyam Vyas, a passenger.
"Who will go and face the killers? Do we want to die?" a fellow passenger Shivam said.