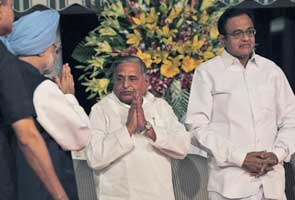 New Delhi:
The Manmohan Singh government has conceded to the opposition demand for a vote on Foreign Direct Investment in multi-brand retail in both Houses of Parliament. It has its numbers stitched up in the Lok Sabha, but in the Rajya Sabha, where it is in a distinct minority, the Manmohan Singh government will have to disentangle some political knots.
The UPA has 95 MPs in the 244-seat Rajya Sabha and to touch the half-way mark at 123, it needs Mayawati's BSP and Mulayam Singh Yadav's Samajwadi Party - both parties that provide external support to it - to vote alongside it on FDI in retail. Before the vote, the SP is posturing, the BSP negotiating.
The BSP has 15 MPs in the Rajya Sabha, one of them party chief Mayawati, who is clear that her support on FDI hinges on the government tabling a bill on quota in government job promotions first. The BSP has raised the quota Bill issue in the Rajya Sabha every day since the winter session begun and Ms Mayawati brought it up as her foremost priority at an all-party meeting called by the government to convince parties to allow Parliament to function.
The government is in a spot since the Samajwadi Party opposes this bill - such a provision will hit its core voter base. The introduction of the promotion quota bill in the last session ended in a fist-fight in Parliament between the two regional powerhouses.
The government has tried to demonstrate its good intention to the BSP by listing the quota bill in the Rajya Sabha on Monday last, though it could not be taken up as the House was adjourned on the FDI issue.
Mayawati has been non-committal on FDI in retail so far, but had earlier said that while she is against it for now, she was willing to be convinced of its merits. The Samajwadi Party has been more vocal. Minutes before a debate-and -vote was okayed in the Rajya Sabha by its chairman Hamid Ansari today, senior leader Ram Gopal Yadav said its nine Rajya Sabha MPs would vote against FDI in the Upper House.
But soon his older brother and party chief Mulayam Singh Yadav said, "
Politics main bhavishyawani nahee kee jaa sakti hai aur situation ke hisaab se mauka dekh kar faisala liya jayega
(In politics, the future cannot be foretold. We will decide taking into account the situation and the opportunities we have."
The government will pin much hope on the fact that whatever the rhetoric, when voting does takes place, the SP will find it difficult to vote on the same side as the BJP. If the nine SP Elders abstain and the government can get Mayawati to back it, it could look at scraping through the vote helped by the 12 nominated members in the Upper House.