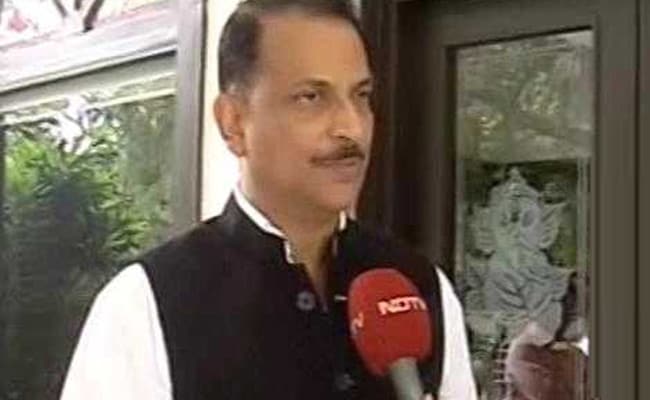 Highlights
Rajiv Pratap Rudy resigned as Skills Development minister
It was not for me to create jobs, he tells ndtv.com
Boss is always right, will follow party's orders: Rudy
Patna:
Rajiv Pratap Rudy, whose tenure as a union minister ended last week, told ndtv.com today, "I tried my best - but even my successor (and critics will vouch for this) will need some time to deliver visible changes."
Mr Rudy, 54, was among six ministers who were asked to quit the government
after they were rated as non or under-performers in a review conducted by Prime Minister Narendra Modi and BJP president Amit Shah.
Mr Rudy was the minister for Skills Development. He has been replaced by Dharmendra Pradhan, who was promoted to the cabinet on Sunday, has retained his earlier assignment of Petroleum, and now has additional charge of Skills Development, crucial at a time when unemployment is a harrowing concern.
Defending his three-year term, Mr Rudy said, "When I was made minister in 2014 , I had to look for officers , create a road map and structure...all that is there now...across the country, there are centres imparting training to youths as per the Prime Minister 's vision."
"I can't take my certificate if the boss thinks that I failed. Theboss is always right," he said, adding "but yes, I failed to communicate to people and my bosses the work done under his guidance in such a short time."
When Mr Rudy resigned, he made it clear that the decision was not his but his party's, though he stressed he would follow whatever orders were given to him. He has not yet received word on whether he will be asked to lead the BJP's campaign in any of the major states headed for elections.
"How can I create employment? My brief was to raise an employable workforce. Getting jobs to them was never envisaged in the brief given to me," the three-time-MP from Saran in Bihar told ndtv.com.
PM Modi's big victory in 2014 was based in part on his promise to create jobs through sweeping reforms.
As Bloomberg reports
, "A million young people enter the job market every month. What makes this infinitely worse is how poorly the Indian economy under Modi has done at providing them regular employment. According to the government's own figures, only 135,000 jobs were created in 2015 - the lowest total in seven years and 67 percent lower than the number created in the last year of the previous government."
Last Thursday, Mr Rudy landed in Patna and switched on his phone to a flood of messages from his office alerting him that Mr Shah wanted to meet with him urgently. He caught the same flight back to Delhi and drove straight to the BJP chief's home, where he was told politely but firmly that the party needed for him to step down.