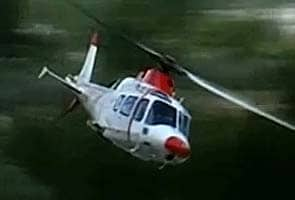 Jaipur:
As a controversy rages over the Rs 4000-crore VVIP helicopter deal, the first Agusta Westland chopper to land in India sits grounded in a Rajasthan hangar and the ruling Congress proposes to investigate why it was at all bought for a not insignificant Rs 20 crore.
The helicopter was grounded after it crashed with chief minister Ashok Gehlot on board in November 2011; the cap of its rotating blade flew off. Since then, the helicopter has been parked in a hangar while the Rajasthan government tries to sell it.
The Congress points out that it was the BJP's Vasundhara Raje who had bought the helicopter when she was CM in 2004. "It can't fly in the desert. It couldn't weather a desert storm. Did the BJP government buy it to park it in a hangar?" said Congress spokesperson in Rajasthan, Archana Singh said.
In 2009, the government's auditor or CAG had accused the state government of wasting Rs 1.14 crore of public money to hastily buy the chopper, which then remained unused for five months as they didn't have a pilot who could fly it.
It also pulled up the government for training an aircraft maintenance engineer abroad and then not appointing him, giving the maintenance contract to an Agusta service centre instead.
AgustaWestland is now accused of having paid bribes in India to land a multi-crore contract with the Central government to supply 12 helicopters for the use of dignitaries and the BJP has gone for the UPA government's jugular on the issue.
The Rajasthan BJP says the helicopter purchase in the state had made sense because they got a good deal. When the Rajasthan government bought the Agusta helicopter we opened a global tender and bought for 12 % less; it was a clear and open deal," BJP leader Rajendra Rathore explained.