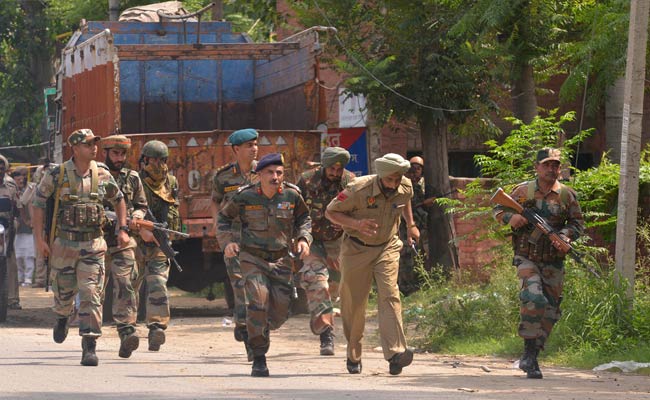 New Delhi:
The terrorists who attacked Gurdaspur, in Punjab's worst attack in over a decade, came from Pakistan, Home Minister Rajnath Singh told Parliament today, warning of "a befitting reply".
The statement comes weeks after Prime Minister Narendra Modi held talks with his Pakistani counterpart Nawaz Sharif and agreed that top officials from both countries, led by their National Security Advisors, should resume dialogue after a lengthy stand-off.

"A view on continuing dialogue with Pakistan will be taken by the government as part of diplomatic strategy," said Finance Minister Arun Jaitley, as government sources confirmed that the talks are unlikely to be disrupted.

This afternoon, Pakistan said it categorically rejects the Indian assertion. A statement from its foreign office said, "In the Gurdaspur incident, blames were apportioned to Pakistan in the Indian media, even when the encounter with terrorists was still going on."

Four policemen and three civilians were killed on Monday, less than 18 kms from Punjab's border with Pakistan, which has condemned the attack.

The minister said the GPS devices belonging to the terrorists found after they were shot dead at the end of a 12-hour long gunbattle established that they crossed into India through the River Ravi.


The terrorists were dressed in army fatigues and equipped with Chinese-made grenades and AK 47s. They opened fire on a public bus early on Monday morning, then carjacked a Maruti 800, which they drove to a police station in the town of Dinanagar.
Then they stormed into a part of the complex, where they remained for a lengthy exchange of fire with the Punjab police. Security forces originally wanted to capture at least one of the attackers live.

The attack threatens to renew tension between India and Pakistan after the recent conferral of their premiers achieved a thaw in bilateral relations.

Last evening, Pakistani forces killed an Indian jawan in the Poonch sector along the Line of Control (LoC), some 200 kilometers southwest of Srinagar.