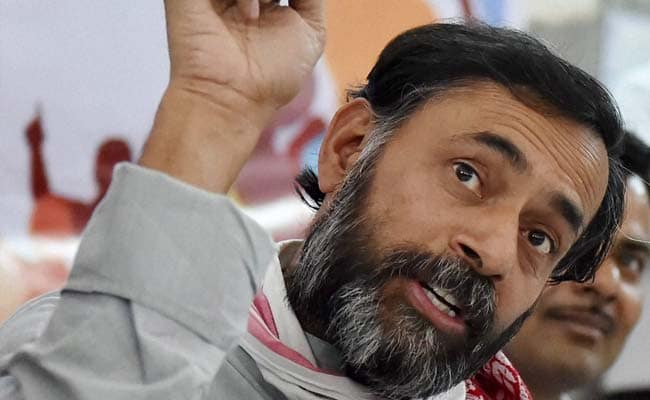 Lucknow:
In the run up to the 'open dialogue' or 'swaraj samvad' organised by dissident AAP leaders, Yogendra Yadav today said the April 14 meet in Gurgaon was not an attempt to break the Aam Aadmi Party (AAP).

"Dialogue never breaks anything but joins it...(on the other hand) the manner in which the March 28 meeting was conducted using bouncers... leaders were expelled without issuing show cause notice or waiting for their replies that is an attempt to break the party," Mr Yadav told reporters in Lucknow.

Currently touring the country in order to drum up support for the Gurgaon meet, he said there is no attempt on his part to criticise anyone but to sit together and find a way forward and see how all can come together for achieving the goals the party had set three years ago.

Asked if he has extended invitation for the 'swaraj samvad' to his leader and Delhi Chief Minister Arvind Kejriwal, he said that an open invitation has been sent by 48 people who are in the party or have been in it and he was one of them.

"We are getting unprecedented support for the samvad after we put out the invitation on website...so far 3591 people have registered themselves for taking part in the samvad and 661 are from UP...so far Kejriwal has not registered himself," he said.

"If he does, we will reply to it," he said.


To a question on whether his move of going to the meet with the expelled leaders is not an act of rebellion, Mr Yadav replied in the negative.
"To the contrary , it is a matter of pride for me that I am sitting here with Vishal Sharma who opposed the goonda gardi in the national executive meeting and left their side," he said, adding that questions are bound to be asked about issues such as transparency and collective decision making among others.
Mr Yadav said AAP is not like other parties like Samajwadi Party or BSP, which had started with high ideals and mission.
Even Congress, DMK and Akali Dal had started from a revolution but ended up in the pockets of "individuals", he said.
Asked if he is in the party and whether Mr Kejriwal is his leader, he said he was member of the party till date and as per his knowledge, the Delhi Chief Minister is the national convener of AAP. "...there been no demand nor attempt to remove him," he said.
Mr Yadav said that besides Medha Patkar, Aruna Roy and Nikhal Roy, 70 candidates who had contested the Lok Sabha elections on AAP ticket will be attending the ' swaraj samvad'.
Asked if he will be floating a new party, Mr Yadav said people have been saying so but he has no information about it.
When his attention was drawn towards party leader Gopal Rai using hooter and beacon light during his visit, Mr Yadav said though he is not aware of it, if it was true then it is most unfortunate as AAP is against VIP culture.