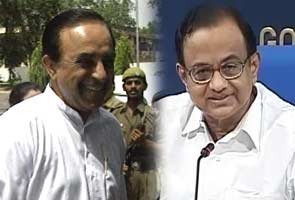 New Delhi:
The government today rejected Janata Party chief Subramanian Swamy's allegations against Home Minister P Chidambaram in the Aircel-Maxis equity issue saying they were "totally baseless".
After perusing records of Foreign Investment Promotion Board (FIPB) in the issue, the government release said "it will be abundantly clear that there was no delay whatsoever. It is unfortunate that baseless allegations should be made without verifying the facts."
The government statement comes two days after Swamy accused Mr Chidambaram, the then Finance Minister, of delaying permission for the sale of Aircel to Malaysia-based Maxis in 2006 so that his son Karti was financially benefited.
Earlier, Subramanian Swamy made allegations of corruption against the former Finance Minister's son Karti Chidambaram. In a three-page letter dated April 24 to the Prime Minister, Mr Swamy has said that Mr Chidambaram should be asked to resign as Home Minister and that the CBI should include him and his son in its investigation on the sale of telecom Aircel to Malaysia-based Maxis.
Mr Swamy says that, Karti, benefited from Mr Chidambaram's position as Finance Minister to earn huge profits during the sale of Aircel which Mr Chidambaram sanctioned in 2006.
A company based in Chennai, partly owned by the Home Minister's son, Karti, has decided to sue Janata Party President Subramanian Swamy for defamation.