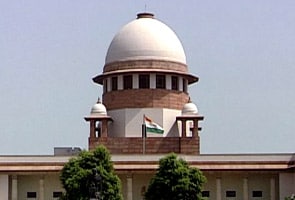 New Delhi:
The Supreme Court yesterday stayed the execution of eight death row prisoners, convicted in different murder cases, whose clemency pleas were rejected by President Pranab Mukherjee earlier this week.
The urgent hearing took place late in the evening at Justice P Sathasivam's residence in New Delhi.
The bench said it was entertaining the petition to ascertain whether the convicts' families had been informed that their mercy pleas had been rejected.
"It should not happen as it happened in the Jammu and Kashmir case (Afzal's hanging). The intimation of the execution reached the relatives of the person (Afzal) after his hanging. That is bad. The relatives lost an opportunity to meet the condemned prisoner for one last time before his execution," the bench said.
Guru was hanged and buried at Delhi's Tihar Jail on February 9 after the President rejected his mercy petition. His family expressed outrage, saying they were never informed. A letter from Tihar authorities about the execution reached Guru's family two days after he was hanged.
Today, reacting to the bench's observation, both the Law Minister and Chief Justice of India said that families of death row convicts should be informed.
"I don't this that there can ever be a policy to keep this secret. I can't comment on individual cases, I don't know the facts but on principle it is only fair that decisions of this nature are bought to the notice of the family members," said Law Minister Ashwani Kumar.
"The principle has always been that the family members were told about when the thing was going to happen," said Chief Justice of India Altamas Kabir.
The urgent hearing took place as the petitioners - Suresh, Ramji, Gurmeet Singh, Praveen Kumar, Sonia and her husband Sanjeev, Sundar Singh and Jafar Ali - feared they would be executed following the rejection of their mercy petitions.
While Sonia and Sanjeev were awarded death penalty for killing eight members of her family in 2001, Gurmeet Singh was convicted of killing 13 of his family members in 1986. Jafar Ali murdered his wife and five daughters. Suresh and Ramji killed five of their relatives.