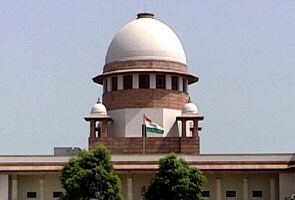 New Delhi:
The Supreme Court stayed execution of capital punishment upheld by it earlier for three AIADMK workers involved in burning to death three hapless college girls in Tamil Nadu in 2000 after former Chief Minister J Jayalalithaa's conviction in a corruption case.
The order was passed on petitions by three convicts -- C Muniappan, Ravindran and Nedunchezhian -- seeking review of the Court's August 30 verdict last year, upholding death penalty awarded to them.
While suspending the execution of the death sentence, a bench of justices B Sudershan Reddy and SS Nijjar also issued notice to the Tamil Nadu government, seeking its response to the writ petition filed by the convicts.
The Supreme Court had on August 30 last year upheld the death penalty for the trio, rejecting their pleas for leniency. The court had ruled that their gruesome offence fell under the category of "rarest of rare offence" warranting nothing less than death penalty.
The three victims of the infamous Dharampuri bus burning incident -- Kokilavani, Gayathri and Hemalatha -- were students of Tamil Nadu Agricultural University,
Coimbatore.
The bus in which they were travelling along with 44 other students and two teachers was torched on February 2, 2000 following Jayalalithaa's conviction in the Pleasant Stay Hotel case.
On February 16, 2007, a trial court in Salem had awarded death sentence to the three accused after finding them guilty of murder, attempt to murder and other charges under IPC and gave varying sentences of two months to two years to 25 others.
The Madras High Court had on December 6, 2007, had confirmed the capital punishment and the sentence of six months to two years imprisonment imposed on 25 others.
Upholding the death sentence, the apex court had said, "These were the murders of helpless, innocent, unarmed, young girl students in a totally unprovoked situation. No mitigating circumstances could be pointed to us, which would convince us to impose a lesser sentence on them. Their activities were not only barbaric but inhuman of the highest degree.
"Thus, the manner of the commission of the offence in the present case is extremely brutal, diabolical, grotesque and cruel. It is shocking to the collective conscience of society.
"We do not see any cogent reason to interfere with the punishment of death sentence awarded to Nedu alias Nedunchezhian, Madhu alias Ravindran and C. Muniappan by the courts below," the Supreme Court had said.